2010 Disney Half-Marathon: Race Report from Team in Training Runner Matt Allen
Posted on January 17 2010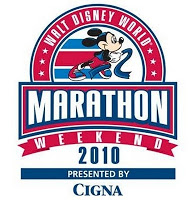 A few months ago I posted about one of my running friends on Twitter, Matt Allen (@mattallenphoto), who was preparing to run the 2010 Disney Marathon with Team in Training, a fundraising group that is part of the Leukemia & Lymphoma Society. His goal was to raise $4000 to contribute to the efforts of the LLS and their goal of eradicating blood cancers while assisting current cancer patients and their families as they work through treatment.  Matt ran into some injury troubles while training for the marathon, but I'm happy to report that he was able to finish off the 2010 Disney Half-Marathon in a fantastic time of 2:12. Even more impressive is the fact that Matt has now raised over $8000 for the LLS – way to go Matt!
Below is a Race Report that Matt sent out regarding his experience running the 2010 Disney Half-Marathon:
"Thank you for supporting my Team In Training event for The Leukemia & Lymphoma Society (LLS). Your help and encouragement is what got me across the finish line. But more importantly, you helped to accelerate finding cures for leukemia, lymphoma and myeloma and bring increased hope to the patients and families who are on the front lines of the battle against these blood cancers.

Leading up to this race I was not sure exactly how I would do. After originally planning to run the full marathon, then getting injured and having to drop down to the Half Marathon I was a bit worried i would even be able to run that distance.

My race started with my alarm going off at 2:30am to get my gear on and head to the bus for the quick ride to the starting line. The temp hovered around 30 degrees and before the gun went off at 5:40am the freezing rain had already started to fall. I was used to running in the cold after training at home, but I had never expected to run in the freezing rain in Floria – it's supposed to be warm there!

During the run itself there were many times where I could feel my legs tighten up, and rather than focus on that, I focused on the support and encouragement I received from you and everyone else who has helped my fundraising for the LLS.

I finished the event in 2 hours and 12 minutes – not my best time, but considering how little I was able to train leading up to the event I am very happy with my time. As far as races go, this was my favorite so far – running through the Magic Kingdom, up main street, around Tomorrowland and finally through the Castle gates was truly amazing. The support at every mile was something I had never seen before. From fireworks at the start, to marching bands just about every two miles, to a sea of people congratulating you at the finish this was hands down the most fun run I've ever done.

From this event, and the previous event I ran last June I have raised over 8 thousand dollars to help find a cure for blood cancers and support those people who are currently fighting this disease. Your contributions got me to this amazing total.

On behalf of The Leukemia & Lymphoma Society, thank you very much for your support. I really appreciate your generosity.

If you'd like to learn more about joining Team In Training, you can visit http://www.teamintraining.org.

You can also read through my progress updates or make additional contributions on my fundraising page here: http://pages.teamintraining.org/ma/wdw10/mattallen

Thank you,

Matt Allen
Matt is yet another great example of someone putting his ability to run to use for a greater purpose than the achievement of mere personal goals – congratulations Matt on your accomplishments!
If you'd like to find out more about Team in Traning, please visit their website: http://www.teamintraining.org/