7 days out: How one HOKA Flyer is tapering for Boston
Posted on April 10 2019
I am one week out from the 123rd Boston Marathon — my third  marathon ever and my first experience racing through the streets of Massachusetts. Many workouts, long runs and cold Midwest winter mornings are all coming together. As my old teammate would say, "The hay is in the barn." There is nothing I can do between now and when I line up with 30,000 other runners on Patriots Day to improve my fitness other than rest and sharpen up.
My journey to Boston began a year and a half ago after watching my roommate run the 2017 Chicago Marathon. I started running competitively when I was seven years old, which took me to the University of Illinois where I was fortunate enough to be a part of a Big 10 Championship-winning track and field program. After graduating, I took a step away from running for about two years, gained a few pounds and started my career in Chicago as a recruiter. Watching all the competitors in the Chicago Marathon gave me an itch to get back to the sport I loved. I went home, signed up for the Illinois Marathon and vowed to qualify for Boston. Last April, I did just that and debuted in a time of 2:57:12, in the HOKA Clifton. I was able to improve that mark at this fall's Chicago Marathon, where I ran 2:53:57.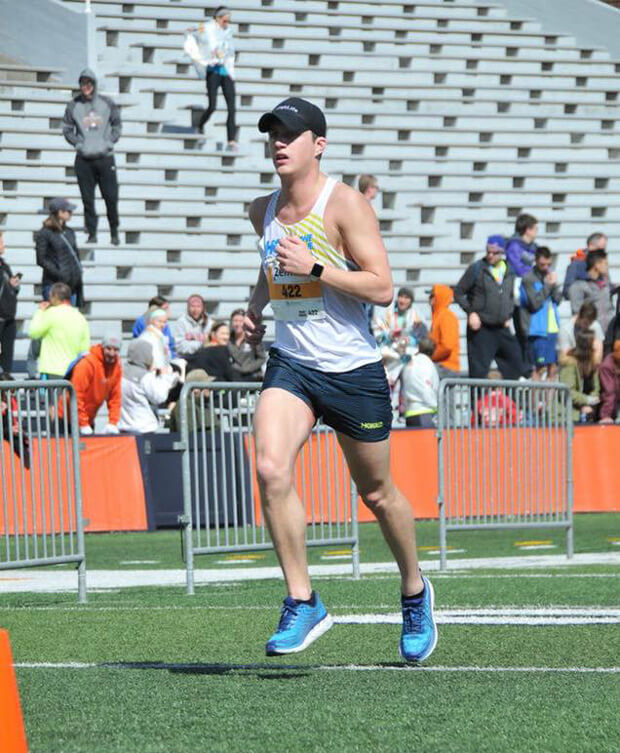 Over the last 23 weeks, I have averaged just shy of 50 miles a week. A typical training week for me consists of six days of running. One of those days will be a workout, the rest will be easy runs and one long run every Saturday morning.
My go-to long run workout:
6 miles easy – 3 mile tempo – 2 mile repeats with a mile in between for active recovery
I finished my final long run last Saturday with longtime friend and former HOKA Athlete Craig Lutz. With the weather finally turning to spring, it was a beautiful day to jump onto the Chicago Lakefront Path and log the last long effort of this marathon training cycle. The trail was packed with runners, walkers and bikers enjoying the reprieve from the cold temperatures we faced this past winter in Chicago.
The long run is the most important part of preparing for a marathon, something I neglected in my first two buildups, which resulted in a major bonk in the latter stages of each race. I didn't want to bury myself last weekend and take away from my race, so I didn't throw in any tempo work and kept the pace light and conversational.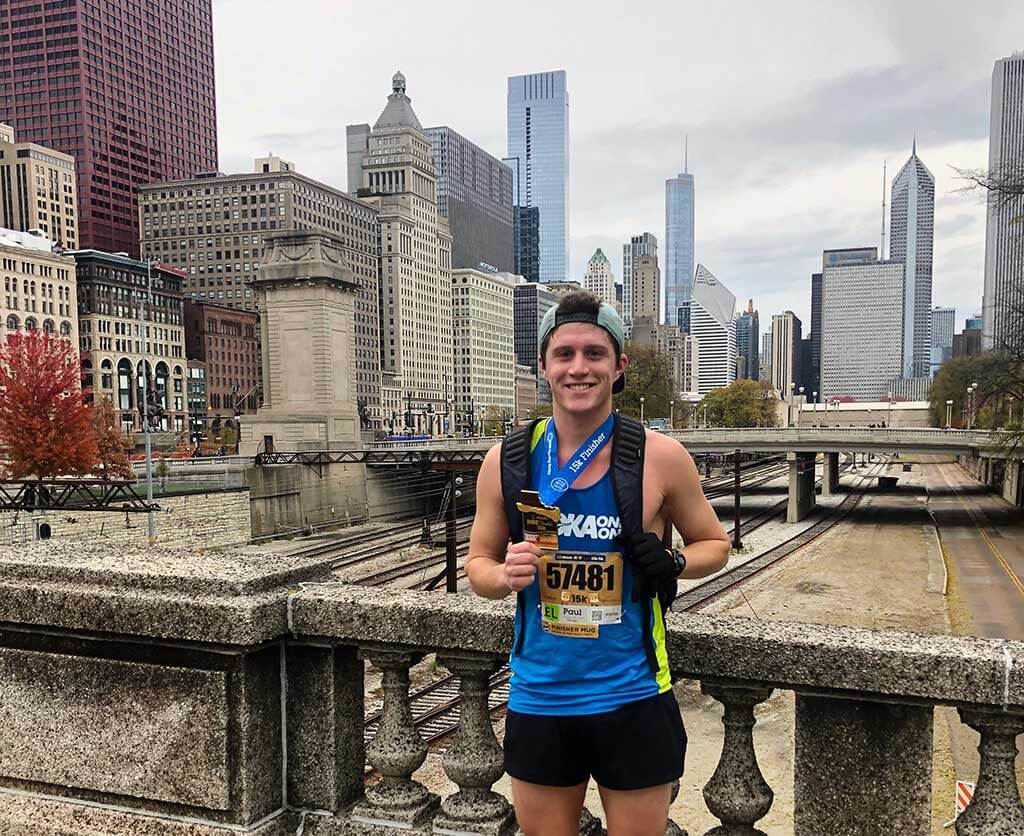 The plan for this week is to do one last workout, which will be 4x mile repeats on Tuesday morning before work. I want my legs to feel fresh and ready to go on race day, so it will be important to do some work this week at faster than race pace while not putting myself in a hole.
My final workout – six days out:
Cut down mile repeats with 60 seconds recovery
I aim for four reps, where each mile is about 5 seconds faster than the last.
After Tuesday, it's all going to be about doing the little things. This week, I am going to put a huge emphasis on sleep as well as hydrating. While the race is the most important thing, the magnitude and history that comes with being at the Boston Marathon isn't lost on me. I am going to take it all in and immerse myself in the city and event. When I land, I will get settled at my hotel and then go for an easy shakeout run to get the travel out of my legs. Afterwards, I will head over to the expo to get my bib and some Boston Marathon gear. I have always envied the passerby sporting a Boston Marathon Jacket, a badge of honor in the running community, and am excited to have earned my own.
The post-plane ride shakeout:
30 minute shakeout run, followed by strides.
Sunday I will take it easy, drinking lots of fluids and eating good carb-loaded foods. Before I know it, my alarm will sound Monday morning, and I will be on a bus along with my fellow competitors headed to the start line.
The day before the marathon:
3 miles, easy.
Taper week is always fun. The work is done and you get to relax and reflect on the journey that got you to where you are. Falling back on this knowledge will allow me to rest easy so I can confidently take on the grueling 26.2-mile distance for the third time.
I am excited to lace up the HOKA Cavu. I look forward to cutting off some more time on my marathon PR and testing myself. My bib number is 2634, be sure to track me on race day, the work is done and now it is #timetofly.
Check out Paul's Boston Marathon shoe, the Cavu 2.