A HOKA Runners Guide to Coeur d'Alene, ID
Posted on July 30 2016
When you explore a place on foot, you see the things others do not. You discover the place locals go to grab a cup of coffee, the best place for a pint, and the best places to stop, stretch and breathe in some fresh air. At HOKA, we have runners all over the world who know their towns best. So we'll be sharing HOKA runner's favorite destinations in their hometown for visitors to get the local experience. We'll begin with the towns many people travel to compete and watch IRONMAN races around the country. Our next stop is Coeur d'Alene, Idaho. Home of Garth Merrill, from Fleet Feet Coeur d'Alene.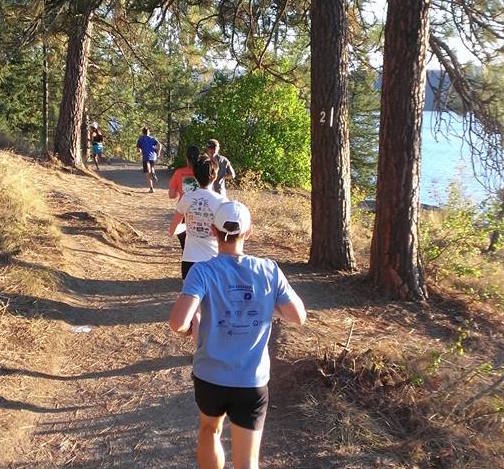 HOKA: How long have you lived in Coeur d'Alene? What's special about the area?
Merrill: My wife Nancy and I have lived in Coeur d'Alene 14 years. Nancy is from North Idaho. We opened Fleet Feet Sports Coeur d'Alene in 2004. Coeur d'Alene is on the edge of 23 mile long Lake Coeur d'Alene at the northwestern edge of the Rocky Mountains and has a fun beach-town/mountain-town vibe.  
HOKA: What's a good scenic or interesting place for a short run in your area? What's your favorite run route?
Merrill: The best bang for your buck for a short run/walk/hike downtown is Tubbs Hill, a forested 165-acre natural area surrounded by Lake Coeur d'Alene on three sides and crisscrossed with several miles of sometimes steep and rocky single track trails. The perimeter trail is about 2.1 miles. The paved, 23-mile-long North Idaho Centennial Trail runs right through town and offers great lakeside or riverside running and biking along most of its stretch in Coeur d'Alene, and connects to a wider network of paved trails that extend even into Spokane, Washington.

HOKA: What's the best coffee or breakfast spot?
Merrill: CDA is loaded with great breakfast options. Breakfast is all they do at Michael D's, at the top of Sherman Ave. on CDA Lake Drive. Great classic breakfasts cooked well, super service. Down the street Java on Sherman is a coffee house that does good food, too. Avocado toast and a steaming Bowl of Soul chocolaty coffee will set you up for your day.
HOKA: Where should someone go to eat a post-race meal (or brew)?
Merrill: Two great meal/brew options right next to each other on Sherman Avenue are Fire Pizza, with seriously good gourmet fire-roasted pies and a cool brew menu, and Crafted Tap House, a gastropub with raised patio seating by the street. A longtime local favorite is Moontime, a pub-and-grub place with microbrews, burgers, sandwiches and specialties like Cajun Ravioli and spicy beef tacos.
HOKA: Where should someone go to get any last-minute running/racing gear?
Merrill: If you're staying in the Coeur d'Alene area, Fleet Feet Sports Coeur d'Alene is your go-to source for running and racing needs, offering friendly service and a wide selection of shoes, nutritional products, run and swim accessories, wetsuit rentals, and info on local running happenings. If you're here for the weekend, you're always welcome to drop into our Saturday Morning Run at 7:30, open to all every Saturday throughout the year.
HOKA: Anything else to see/do/experience in this town in a short weekend trip?
Merrill: If you have time to play, North Idaho is an outdoor playground. It's mountains, lakes and rivers! Downtown there are shops and galleries, and down by the water are beach-goers, cruise boats, watercraft rentals, parasailing and sea plane excursions. There are outstanding bikeways in the area like the 70-mile Trail of the Coeur d'Alenes along the Coeur d'Alene River, and the Hiawatha Trail on the Idaho-Montana border with its many tunnels and trestle crossings. A beautiful drive around the lake is via Highway 97/Lake Coeur d'Alene Scenic Byway.