Blog Tip: Using Who's Amung Us to Track Blog Visitors and their Locations
Posted on June 20 2009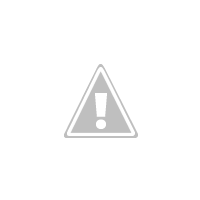 When I first started this blog, one of the initial things I wanted to know was if anyone was actually reading what I posted here. There are a number of ways one can track blog visitors at no cost, ranging from simple hit counters to more sophisticated services like Google Analytics. However, while surfing the blogosphere I came across several blogs that had little world maps with pins showing the locations of past and current readers. These maps were provided by a service called Who's Amung Us, and it turns out that the basic map and current reader counter are available for free from their website. With the free version, you can get a map just like the one at the bottom of this webpage, and it will display the location from which each visitor to your blog arrived (don't worry – no personal info about visitors can be seen). Your current location should be blinking as you read this.
It's kind of exciting as a new blogger to see people from around the world reading what you write, and when Who's Amung Us introduced a Pro version of their service, I was one of the first to jump on board. For $50.00/year you get access to all kinds of cool stats on the visitors who arrive at your site, including real-time locations, duration of visit, search terms used to arrive, and a zoomable, high resolution map. A sample picture of the stats dashboard for this blog is presented below (this just scratches the surface of the data available):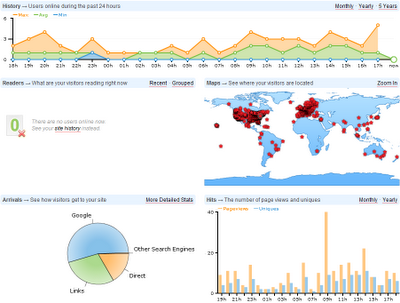 On top of all of this, one of the cooler features of Who's Amung Us is that Firefox users can upload a browser plugin that shows in real time the number of visitors on any site on which you have installed their widgets. Thus, at any given moment I can glance at the bottom of my browser and see how many people are currently viewing my blog. Very cool!
Finally, I have to give credit to the developers at Who's Amung Us as well. They are very responsive to e-mails, provide help quickly when needed, and incorporated some small tweaks that I suggested within just a few days. This kind of service is rare to find these days.
So, if you want to keep track of visitors to your blog, give the free version of Who's Amung Us a try. If you get hooked like I did, I highly recommend the Pro version – it's highly addictive for a stats junkie like me!