Chasing your first marathon with Stevon Gilbert
Posted on June 03 2019
HOKA fan Stevon Gilbert, better known by his social media fans as "@stevon_runz_sometimez", does more running  than his humble handle would suggest. Stevon holds a running streak that has endured almost 500 days and continues to grow. As Stevon chases his biggest goal of completing his first marathon, he embraces a mindset that runners of all abilities can learn from— if you make the decision to put in the work every day, you will improve.
Stevon was not always a runner. In fact, he dreaded it during his time as a Marine. "By the end I was burnt out and I got lazy," he said. Stevon took the proactive step of looking for a local running group when he realized that too many days on the couch had passed by. Joining a running group gave him a supportive community and the motivation he was looking for to get back into shape.
"They taught me that all you have to do is have the courage to get out there and have fun."
Stevon now advises that there is a place for runners of all abilities in running groups. "The friends you meet through these groups will enjoy your company and only want  to see you succeed," he encouraged. Now, Stevon brings that energy and support to his social media followers, races and the rest of his running community.
"I hope to be a good ear to anyone that is scared to run. It doesn't matter if you are last as long as you give it your all. There may be people who struggle each day they get out there, but I will get out there to run one mile or many with them."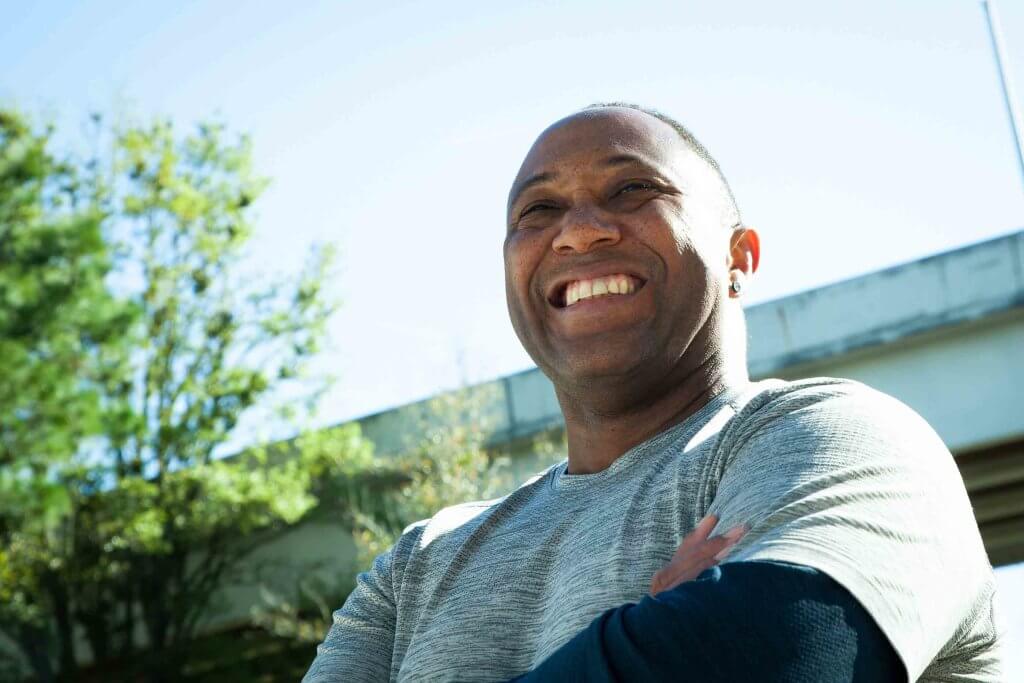 Stevon decided it was time to participate in his first race after he had gained some momentum with his running group. There was no turning back when he crossed the finish line. "I only had to finish one race to realize that I am a runner. After finishing that first race through all of the challenges and crazy weather I just wanted to sign up for another. In that moment, I realized my true dedication to the sport," he said.  As proven by his over 400 day run-streak, "dedication" is not a word that Stevon takes lightly. Consistency is the key to his training plan. On each of his runs, Stevon is motivated by just going a little faster or a little further. So far, this has paid off with a half marathon finish. Now, Stevon is aiming to double that distance.
Stevon is working to make his marathon goal a reality by running the Marine Corps Marathon later this year. In the end, he's not chasing this goal for the sense of individual accomplishment. As Stevon puts it, "I'm rebuilding myself, one run at a time, every day." Whether that progress is fast or slow, he keeps at it because running makes him happy.  If Stevon can inspire others to keep running in the process he has achieved the true intention behind his personal goal.
Shop the all new Clifton 6 here.