Dave Scott: Champion Dad
Posted on June 17 2016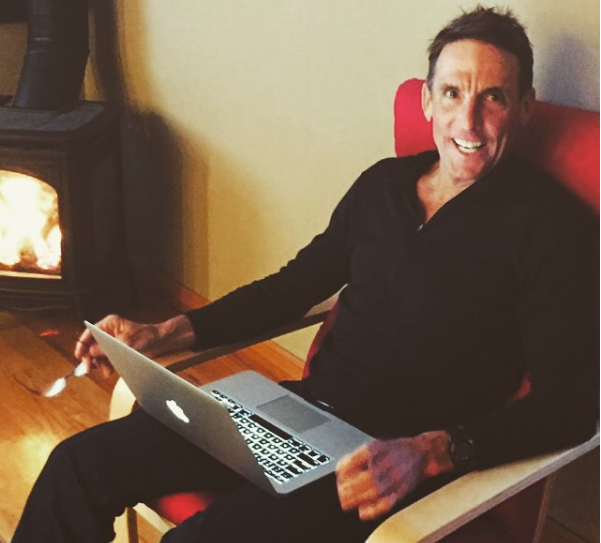 You might know Dave Scott for his triathlon feats: He's the first six-time Ironman Triathlon Hawaii champion, and the first person to be inducted into the Ironman Hall of Fame. Even as the years have passed, Scott has continued to shine: He placed second at the Ironman Hawaii at the age of 40, and was fifth at the same race when he was 42. His running times still stand among the fastest, to this day.
What you might not know, is that in the days since Scott has moved on from elite-level racing, he's been coaching triathletes—and focusing on being a dad. And in Dave Scott fashion, he's a winning dad.
We caught up with Scott about his kids, including his son Drew, 26, also a professional triathlete and HOKA ONE ONE athlete.
HOKA: Does being active simply run in the family?
Scott: Well, Boulder, CO is an active town. There's a 10K called Bolder Boulder—and everyone in town does it, even if they're walking. So my kids started early. Drew was five when he first participated, and Ryan was just over six.
My daughter ran in high school, and had perfect form. But she's more interested in dance.
HOKA: Did you encourage Drew to get into triathlons?
Scott: I used to take the kids on family trips, and sometimes that involved triathlons. But they didn't go to many races. In fact, as the boys grew up, their primary spot was nordic skiing. Both skied in college. Drew also started dabbling in triathlon, then. He'd come back from school, and was in great shape. But I never said anything; didn't mention anything. I never said, "Hey, why don't you train more? You can be pretty good."
I just let him decide.
HOKA: Do you train together? Or just go out for fun?
Scott: Drew swims in my class with other pros. It's a 75-min workout. He's one of 40 people, though, and I have no favoritism. 
We sometimes jump in the pool together. I can sometimes make him sting a little bit.
If we're riding, and especially uphill, forget it. If I sit on his wheel for a bit, I can stay close. But sometimes, he smashes me. The gap will go from five feet, to ten feet, to goodbye. But then we'll ride back together. I'm just a wrinkled triathlete now.
HOKA: We doubt that. You used to coach Drew. How was that, as his father?
Scott: Oh, at times' it was hard! The dynamics of a father-son relationship can be difficult in any sport.
Now that he's finished college, he's really going for it. I have an extensive background in coaching, and we put some good training programs together for him. But we knew it was time for him to work with someone else. I'm his dad, first and foremost.
And I didn't want to be labeled, or have everyone saying, "Oh, he's Drew's father, and he's a six-time world champion."
I just want to be Drew's dad.