Fake and Counterfeit Vibram Fivefingers: Please Spread the Word!
Posted on June 01 2010
Quick post here to help spread the word that a lot of websites are popping up that are selling fake/counterfeit Vibram Fivefingers shoes (this has been noted recently by Vibram themselves – see letter at bottom of post). If you see a website purporting to be selling the Vibram Fivefingers at a steep discount, in unusual color schemes that look unusual, or made from odd looking materials, you should immediately be suspect that they are fakes.
I have seen ads for these fake Vibram Fivefingers websites pop up in my Google Adsense ads on this blog, and I add them to my blocked advertiser list when they do (it's been hard to keep up with the large number of them lately). I want to thank Justin O. of the Birthday Shoes website for e-mailing me about this and providing me with a list of counterfeit sites (which I have blocked from my ads, but new ones keep popping up). If you want to read more about the fake Vibrams, check out Justin's excellent and very informative post here: These are NOT Vibram Five Fingers! Spotting Fakes, Counterfeits, Knock-Offs, and other Pirated, Black Market Five-Toed Shoes. In his post, Justin, who deserves a lot of credit for taking the lead on exposing this, also provided an image compilation of fake Vibrams, which I have re-posted below: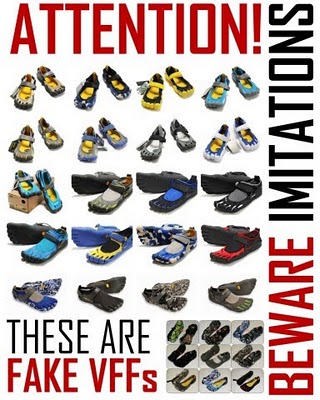 Below is also a letter posted on the Vibram corporate website regarding this issue:
To All Consumers,

We want to inform you about our efforts to fight the sale of counterfeit merchandise, a serious menace that has recently surfaced after the success of our authentically unique Vibram FiveFingers®.

Fake merchandise and trademarks appear daily in the market, often sold from unauthorised or fraudulent Vibram or FiveFingers websites.

Purchasing only authentic Vibram FiveFingers® ensures that you avoid wasting your money on poor quality product, or worse, having your personal and financial information compromised. In addition, insisting on authentic Vibram FiveFingers supports fair labor and ethical business practices, responsibilities counterfeiters flagrantly ignore.

Please refer to this website to:

* Find the list of authorised Vibram FiveFingers® retailers using our dealer locator.
* Verify our phone number, address, and contact information; many counterfeit sites won't provide this information.
* Verify the stocklist of colors and styles we produce.

Please remember this advice when purchasing Vibram® products on the web. An integrated action with your collaboration and support will help us to fight the spread of counterfeits and fakes.

If you have questions or concerns about suspicious websites, on-line discounted sales, or counterfeits of Vibram designs please contact us at www.vibramfivefingers.com/info/contact or info@vibramfivefingers.it

Thank you for your cooperation and renewed support,

Vibram