Fast Food: Easy Overnight Oats
Posted on September 20 2016
Eating breakfast is the most important way to start the day, but it is easy to skip when life gets hectic. Overnight oats allow you to do the work at night, so healthy breakfast is handy right when you wake up. The best part? Only 3 common household ingredients are necessary for overnight oats- rolled oats, your favorite milk (skim, almond, soy, etc.), and chia or flax seeds. The rest is up to what you are craving or what you have stocked in the pantry.
These oats are a great way to get in some carbs before your morning run, or quick way to refuel when you finish your work out and don't have time to cook. Here's how to make your old staple oatmeal breakfast into something new and exciting!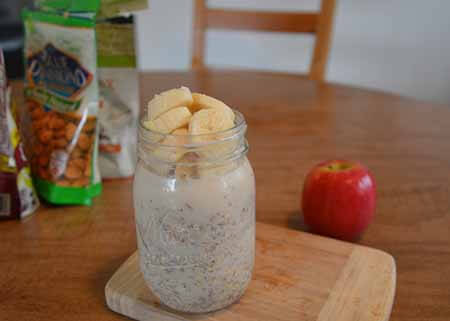 Base:
1/2 cup rolled oats
1 tablespoon chia or ground flax seeds
1 cup of milk of choice
Start by mixing your base. Add all ingredients to a mason jar or other sealable container. If you like thicker oats, you can experiment with adding some yogurt or protein powder.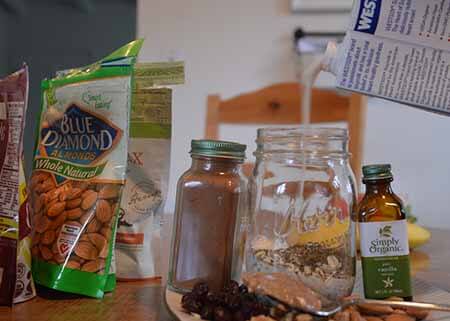 Choose your mix ins: Nut butter, cinnamon, honey, vanilla extract, nuts, dried fruit, frozen berries, frozen peaches, cocoa powder, chocolate chips, coconut flakes, etc.
Get creative! Add as many as you like. Then, seal your jar and shake until well mixed. Refrigerate overnight (about 8 hours is ideal).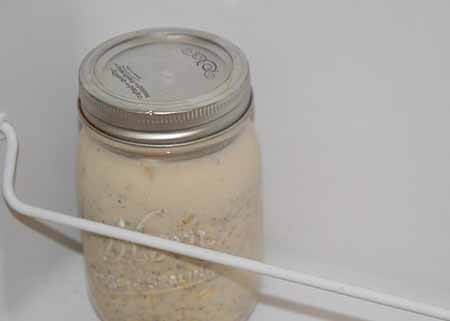 Toppings: sliced banana, blueberries, raspberries, strawberries, apples, etc.
After your oats have sat in the fridge overnight, re-mix with a spoon, then add fresh fruit as a topping. Banana is our favorite!
Enjoy!