Fast Food: Kona Island Breakfast Bowl
Posted on October 04 2016
Summer has officially passed us by, which has us yearning for one last round of beach time or a tropical getaway. HOKA athletes such as Kevin Collington, Luke McKenzie, Heather Jackson, and Leanda Cave are lucky to have this chance, as they head to beautiful Kona, Hawaii to race in the IRONMAN World Championships. They are in for a 2.4-mile swim, a 112-mile bicycle ride and a marathon through strong winds and lava fields. Sounds relaxing, right? Don't worry, these guys are experts.
If you really want to get in the Hawaii mood, try this Kona inspired Breakfast Smoothie Bowl. It will have you thinking you are relaxing on a Hawaiian beach, even if the sound of the waves is coming from the race on TV. Add your favorite tropical fruits and a healthy handful of granola to take your usual smoothie experience up a notch. This breakfast bowl will give you the recovery fuel you need after a long run without leaving you hungry.
Feel like you need more island vibes in your life? Check out the limited edition Kona Clayton. Or, check out the HOKA Tracer, another lightweight tri favorite that you will likely spot in the race.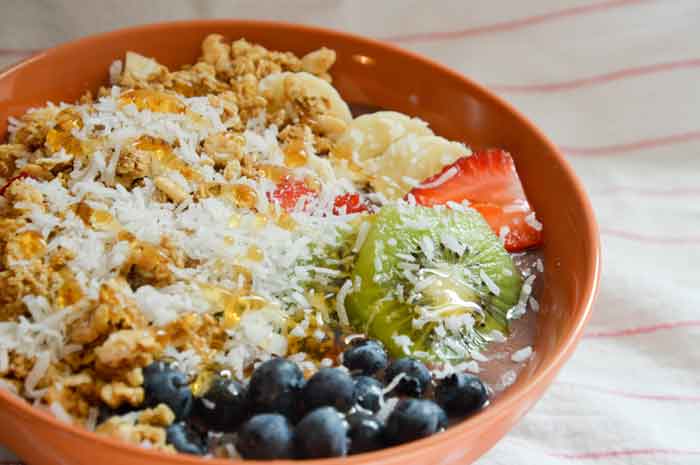 Ingredients:
Smoothie base:
1/2 banana
1/4 c pineapple juice
1/4 c coconut milk
1/2 c frozen mango
1 package frozen acai
Don't have pineapple juice? Substitute with orange juice.  Don't have coconut milk? Substitute with any other milk product (almond, soy, skim, etc.).
Toppings:
Tropical fruit: banana, strawberry, kiwi, blueberries, get creative!
Granola
Shredded coconut
Honey
Use a blender to combine banana, pineapple juice, and coconut milk. Add frozen mango and acai packet. Blend again. Smoothie mixture should be thick enough to eat with a spoon. Pour mixture into a bowl. Top with sliced fruit, granola, and shredded coconut. Drizzle honey over the top. Enjoy!