Help a Fellow Running Blogger: Phat Disney Geek is Back on the Road
Posted on July 04 2010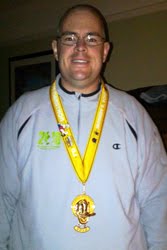 Every once in awhile you hear a story that moves you in a way that few others do. This was how I felt when I listened to Phat Disney Geek's (otherwise known as Byron) race report from the 2010 Disney Half Marathon on the Running to Disney podcast (by Gordon H.). Byron's story about completing the Disney Half after losing 70 lbs from the start of his running journey in mid-2009 was as emotional as it was triumphant, and I highly recommend that you give it a listen – you can download the episode here on Itunes. You can also read a race recap on Byron's blog, Phat Disney Geek.
I was disappointed to find out that Byron more or less stopped running after Disney, and wound up regaining most of the weight that he had lost. In a recent blog post, Byron laments falling off the running wagon, and asks for help in holding himself accountable in order to get healthy again in preparation for a return to Disney in January 2011. Here is Byron in his own words:
"I believe that I finally have all the pieces coming together to get this going again. BUT, I need your help to get me going and keep me going. From those that are willing, I need the tough love. To hold me accountable to what I say I am going to do and what I need to do and to not let me get away with slacking off and making excuses."
So I'm writing this in the hopes that you might stop by Byron's blog and offer some helpful words of encouragement. As someone who has also made a dramatic personal transformation through running (you can read my weight loss story here), I understand the power that support and motivation from fellow runners can provide, and I wish Byron the best on his renewed journey, and I hope that you will too.
In addition to his blog, Phat Disney Geek, you can follow Byron on Twitter at http://twitter.com/phatdisneygeek, or on dailymile at http://www.dailymile.com/people/PhatDisneyGeek.