How to Download Garmin Forerunner Data Directly to An iPhone, and Then Upload to dailymile
Posted on June 12 2013
A few minutes ago I glanced over at my Tweetdeck screen and saw this tweet:
This is why @dcrainmakerblog is the best: dcrainmaker.com/2013/06/garmin…

— Sara J (@sarajacobson) June 11, 2013
Intrigued, I followed the link and my world changed. The skies cleared up, birds started singing, and my 3 year old told me he really wanted to take a long, long nap later today. Really.
If you're not familiar with DC Rainmaker, he writes the most comprehensive reviews of fitness electronics on the web. If you think my shoe reviews are long and detailed, read one of his GPS watch reviews and you'll see that I pale in comparison.
Anyway, in his post Ray shows us how to upload workout data directly from an ANT+ enabled GPS device (mostly Garmin) to various tablets/mobile devices. Android, iOS devices, and Microsoft Surface are featured.
I was under the impression that I could only download my Garmin data to a computer. So, suppose I worked out away from home. I'd have to wait till I got back to my desktop computer before I could look at the data in detail and post it to dailymile. I could do it manually, but what fun is that when a solution that involves gadgets is available??? (yes, I am a gadget geek in addition to being a shoe geek…) Enter DC Rainmaker with a solution. And it just so happens that I have all the equipment needed to accomplish this little trick, so I decided to give it a go and report on my results here.
So here's what I required to make this work:
1. An ANT+ enabled GPS watch. Check! I happen to use the Garmin FR610 as my regular workout watch, and it's the same watch Ray used in his post. Watches that require a USB cable for data download will not work with iOS devices.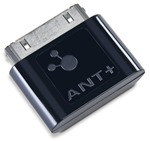 2. A Wahoo ANT+ sensor for iPhone/iPad. Check! The sensor is a little plug that allows the watch to communicate wirelessly with your iOS device. They sell for $48 at Amazon. I've had one of these for a long time, and used to use it to view my cadence data recorded by a stride sensor. I stopped using it once I realized I could get the cadence data from the stride sensor directly on my Garmin. Ray reports that the 30-pin Wahoo sensor works with a lightning adapter for newer iOS devices. I don't have an adapter, so can't try it.
3. The Wahoo Fitness app, already have it on my phone. Free download at iTunes.
4. My iPhone (I have an iPhone 4). Also works with iPads.
I miraculously managed to locate my Wahoo sensor in the depths of my desk drawer, plugged it in, and fired up the Wahoo Fitness app. All of the images that follow are direct screen captures from my iPhone.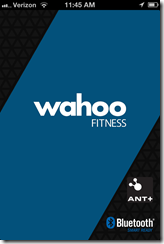 Following Ray's instructions I pressed the history button, clicked "Import from Garmin Watch," and waited while the app searched for my FR610.
I waited quite awhile, and nothing was happening. I then looked at the screen again and noticed that the message at the bottom had changed: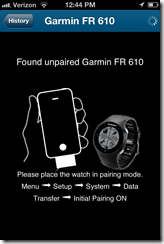 Ray mentioned this step in his post, but I'm not good at following directions. Maybe a little voice alert in the app that says "Read Me You Idiot" would be a helpful addition… On the 610 I went to Menu—>Setup—>System—>Data Transfer and turned initial pairing on. That did the trick and my data transferred over. Not sure why there are so many iterations of a workout on June 8 at 11:02 AM…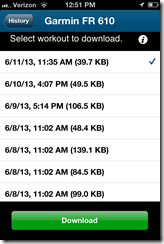 I chose the first workout in the list and it started to upload the data.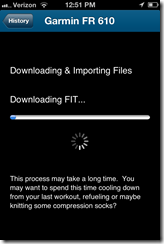 Voila! The workout appeared on the app interface, and clicking on it I was able to view data from my run yesterday as well as a map and mile lap splits. Very cool!!!
Next, I tapped the little "Mail" button on the upper right and it brought up an option to configure sharing of workout data. Looks like there are 10 possible upload destinations:
Since I use dailymile, I clicked that and was greeted by my dailymile login screen. I filled in my info and arrived here: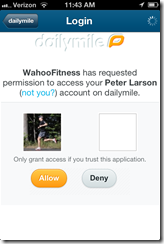 A click of "Allow" and I was set to go. I returned to my workout page, clicked the "Mail" button on the upper right again, and clicked "Upload to dailymile."
The app started to talk to dailymile, and in a few seconds the workout was uploaded.
Here's what it looks like on dailymile.com: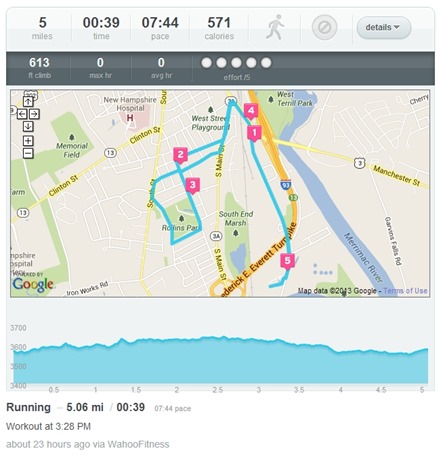 Now, all this does is upload the GPS track and run data to dailymile. You can't describe your workout, plug in shoe type, or participate in any of the social functions that dailymile allows. But, if your goal is simply to get the data uploaded, this little trick works really well. It does require that I have the ANT+ iPhone sensor nearby, which might be problematic unless I leave it in my car or tuck it in my wallet. My bet is I'd lose it before long, but that's just me.
From a practical standpoint, how often will I use this method of data upload? Probably not very often since I'm now mostly working from home, but I could see using it while traveling. When I was working at the college I'd often run after work and manually input my data in the car before heading home so I wouldn't forget. There's another situation where it might come in handy.
Anyway, hope this helps those of you who are Garmin and dailymile users. And a huge thanks to DC Rainmaker for putting up the initial tutorial – love finding tricks like this!