How to Run Your Best Marathon with Matt Llano
Posted on September 14 2016
You may be shocked to learn that HOKA ONE ONE Athlete Matt Llano ran his first marathon only two years ago at the Chicago marathon. This year, he finished 6th at the United States Olympic Marathon Trials, and his current PR is 2:12:28.
"The marathon tests our limits and is a phenomenal display of the full spectrum of human emotion and spirit. As challenging as it is, it is by far my favorite event." says Matt.
Matt will soon be taking on the challenge of racing the New York Marathon this Fall, and is taking training to the next level with NAZ Elite teammate Kellyn Taylor who will also be racing. Here are some of Matt's suggestions for running your best marathon.

HOKA: What are your top 3 tips for running marathons?
Llano:
Don't try anything new on race day – that goes for nutrition, stretching, drills, gear, shoes, etc. Stick to what you know. Do you know what Meb Keflezighi uses to fuel each of his marathons, or what shoes and warm-up drills Shalane Flanagan favors for her races? With the increased influence of social media in recent years, you have instant access to this kind of information if you want it. It's tempting to go into panic-mode before a race and try something new and "better." What you need to remember is that what works for someone else won't necessarily work for you. In that case, then, is it really "better?" There's no sense in sabotaging all of the hard work you've put in training for your race just because you wanted to try what someone else is doing. If you're going to try new foods, products, routines, exercises, etc., do it in training in the weeks and months leading up to your goal race so everything on race day is familiar.
Mimic the course and conditions for goal race as much as possible during the training segment. If you're running the New York City or Boston Marathons, you're going to need to prepare a lot differently than if you're running the Berlin Marathon. Why? New York and Boston are very hilly courses; whereas, Berlin is pancake flat. Since the courses are vastly different, the training should be, too. Incorporate hills into your easy training runs as well as harder workouts and long runs if you've signed up for a hilly marathon; run on a lot of flat surfaces if you're getting ready for a flatter marathon – you'll be using different sets of muscles in each race and need to teach your body what it feels like to fatigue those specific systems. Similarly, if you are able to predict the weather conditions for a particular race, it can be beneficial to practice in similar conditions beforehand. Running a marathon that is typically warmer than ideal? Add an extra layer of clothing or two during your training runs to teach your body to adapt to the warmer temps.
Drink plenty of fluids during your training runs and especially during your race. While I was preparing to run my first marathon, the 2014 Chicago Marathon, I neglected to adequately practice my fluid intake in the weeks leading up to the race, and it led to my demise on race day. I underestimated the importance of hydration (and caloric intake) during the marathon, didn't drink any fluids the entire race, and massively bonked at 21 miles, slowing from 4:55 per mile (sub-2:10 pace) to over 6 minutes per mile, and destroying my dream of a stellar debut marathon time. Research the marathon you'll be doing to find out what drinks they'll offer on the course (usually Gatorade or Powerade in addition to water), and utilize those in training so your stomach can get used to it. It might be uncomfortable at first, but you can train your stomach to handle more fluids, and you'll be better off for it in the long run (pun intended).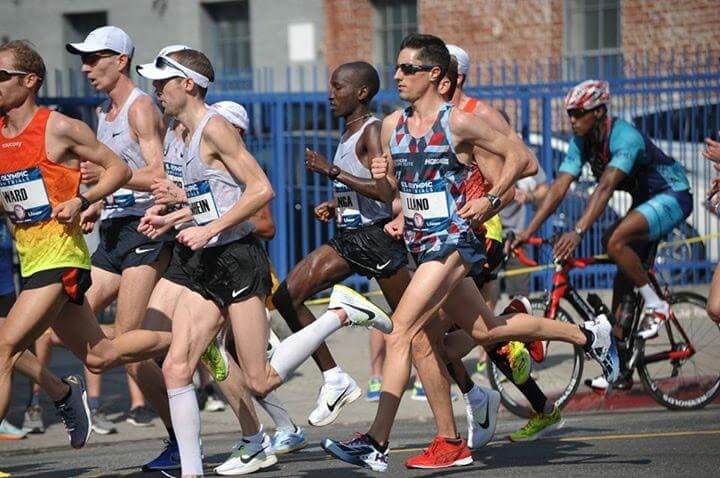 HOKA: What is your strategy for racing a marathon?
Llano: One of the most important aspects of race strategy for the marathon is to make it as comfortable as possible for as long as possible. A lot of people say that you race the first 20 miles with your head and the last 6.2 with your heart. Be realistic about your goal and stick to it for at least the first 20 miles, even if you're feeling really good. All the miles can catch up to you very quickly in the marathon, and you can go from feeling on top of the world to being in extreme pain in a matter of minutes. When I ran Chicago (my first marathon), I felt amazing at 19 miles, and by 21 miles, I was blacking out and felt as though there was no way I'd be able to finish – it changed like the flip of a switch. By sticking to your goal pace early on in the race, you increase your likelihood of finishing feeling good and hopefully without slowing down too much.
HOKA: What would a typical day of practice training for a marathon look like?
Llano: Training days vary a bit depending on whether or not you have a hard workout. On easy days, I generally do two easy runs (one longer run in the morning and a shorter run of 4 to 6 miles in the afternoon) and prioritize recovery in between, which might mean doing projects around my house, catching up with friends over coffee/tea (I'm not a coffee drinker), or watching way too much Netflix. A hard workout day for me would look something like this (roughly):
6:00 am – Wake up, shower, start drinking fluids and eating breakfast
7:00 am – Stretch, activation exercises, listen to music to get pumped up
8:00 am – Warm-up for the workout (run a few easy miles, perform drills and more activation exercises, run a few harder strides to prime the legs for the workout)
9:00 am – Run the workout and subsequent cool-down, foam roll, jumpstart recovery
10:30 am – 11:00 am (immediately post-workout) – Eat "second breakfast" to refuel from the training session
12:00 pm – 2:00 pm – Nap
2:00 pm – Lunch and then strength training + swim
4:00 pm – Afternoon shakeout run (generally 4 to 6 miles)
6:00 pm – Dinner
9:00 pm – Sleep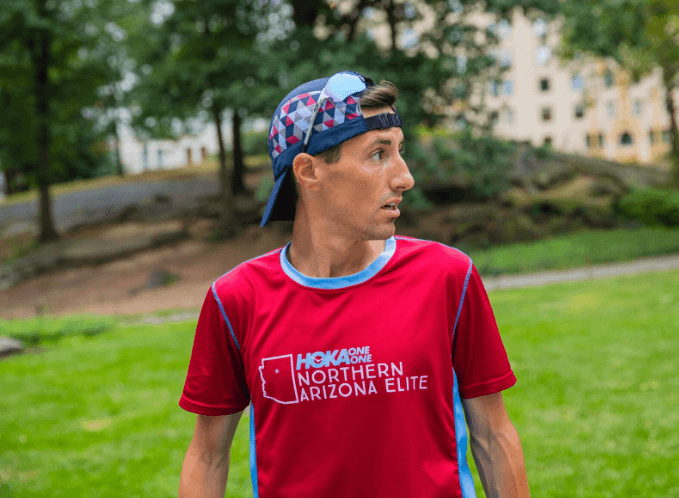 HOKA: Which HOKA shoes would you wear for a marathon and why?
Llano: My go-to shoes for the marathon are the HOKA ONE ONE Tracer. They're lightweight and cushy, yet also somewhat firm and responsive at the same time. To me, they epitomize what a marathon racing shoe should be. Not to mention, HOKA made our team some awesome custom shoes for the Olympic Marathon Trials in our team's color scheme and design.
HOKA: Do you have any weight training or stretching suggestions to become a faster distance runner?
Llano: This is a tough question to answer. I think there is definitely a place for strength training and stretching in a successful marathon training program; however, my best recommendation would be to go to a physical therapist or someone who specializes in the area, get evaluated, and have them build you a targeted strength training protocol. In general, I would say it is very important to focus on strengthening your core (not just your abs) and glutes. Everyone is going to have different strengths and weaknesses, though, so getting a plan from a professional is going to be the best way to stay injury-free and enhance your performance on race day.