How Vegetarian Sage Canaday Fuels for Miles
Posted on June 23 2016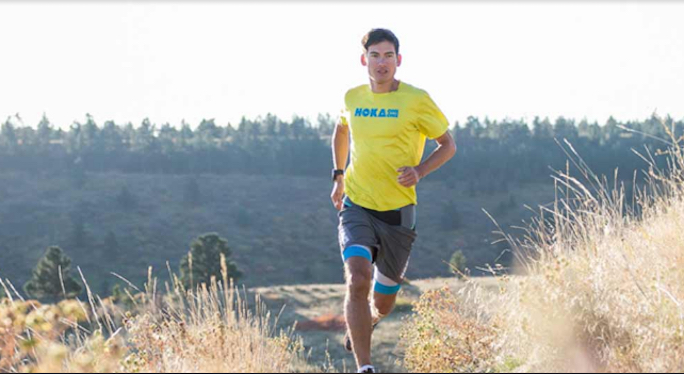 HOKA ONE ONE runner Sage Canaday, 30, is no stranger to winning ultramarathons: He's claimed victories at the Tarawera, in New Zealand, and The North Face Endurance Challenge, among other prestigious races. Now the Boulder, CO resident has his sights on this weekend's Western States Endurance Run in northern California. "Western States is considered the most competitive 100-mile ultra-distance race in the U.S.," Canaday says. "I want to compete against the best ultra-runners out there."
While Canaday is known for speed and his ability to charge on climbs, he's also a vegetarian, much like seven-time Western States winner (and running legend) Scott Jurek.
We caught up with Canaday to talk about his diet and fueling strategy, and how it helps him fly across the miles (and keep his skin clear!).
HOKA: How long have you been vegetarian? And why the move toward veganism?
Canaday: I really made a concerted effort to go mostly plant-based vegan after being ovo-lacto vegetarian [able to eat dairy and eggs] for the past 29 years. My girlfriend Sandi along with some scientific studies helped sway me. I've been about 98% vegan for the past eight months or so. A few times when we travel or go out to eat, I might try something with cheese or eggs in it, but when eating at home we don't purchase those products anymore.
HOKA: Have you noticed any changes with your body since going mostly vegan?
Canaday: I don't really notice a huge difference from being a vegetarian. I'm able to easily stay at the same weight I was in high school though, and I can eat as much as I want. I've always been a pretty lean guy, but it's easier to keep a low body fat percentage. The biggest overnight change was that when I eliminated dairy, my acne cleared up!
HOKA: Have you noticed any changes with your running and training?
Canaday: I seem to be able to recover from high mileage—like running over 100 miles a week—and intense long runs, faster. I've also never had an overuse injury from running.
HOKA: How do you maintain your diet while traveling for races or other reasons?
Canaday: Traveling presents some challenges at times, depending on the location. We usually bring a lot of snacks. Fruit and veggies can usually be found at local stores and markets, so we try to stock up on those as well. Beans and rice are also staples in our diet, and they can be found in most places. A lot of times we'll have to search for the top plant-based restaurant if we go out to eat though!
HOKA: Generally speaking, what are some key snacks you keep handy to maintain high energy?
Canaday: Fruit is always key. It hydrates, provides carbs (think quick, natural sugars), and is chock full of antioxidants and vitamins.
HOKA: What will be your pre-race breakfast at the Western States?
Canaday: I usually keep things simple in the morning: a banana on some pieces of sourdough, or whole-grain bread with a generous amount of almond butter. I drink quite a bit of plain coffee and water as well.
HOKA: Speaking of the race: Which shoes will you wear?
Canaday: I'm going to start of with the HOKA Speedgoats for the high alpine running and rocky trails, and then switch into the Claytons for the second half of the race. [Author's note: The Western States course transitions from technical mountain terrain early in the race to more runnable, smooth trails in its latter stages.]