Ingenious Inventions: The Peter Potty and Flippee the Toilet Shield
Posted on March 29 2009
As any parent of a 5 year-old boy knows, they are inherently messy and destructive creatures. One area where this is particularly true is in the bathroom. One of the great joys for a little boy is to learn how to pee standing up – it's like a small right of passage on the way to manhood. Unfortunately for parents, this milestone has near disastrous implications for the cleanliness of one's bathroom. As a father, I want to support my son's newfound ability, but the sad truth is that ability and aim do not necessarily mature at the same rate (my wife might argue that aim never really catches up, but that's a whole 'nother story that will never be discussed on this blog…). So how does one support their child and maintain a sanitary living environment?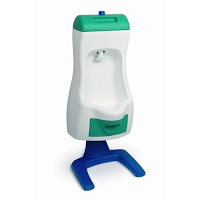 About a year ago my wife found the item pictured above on the internet. It's called the Visionaire Peter Potty Toddler Urinal, and it has to be one of the most ingenious inventions I have ever seen (and the reviews on Amazon back this up). Now, a year later I came across the Peter Potty on my Amazon Wish List (yes, I am a huge fan of Amazon), and am very tempted to give it a try (I mean, for my son to give it a try, really…). My only concerns are whether or not he is too big for it now, and how much cleaning it requires, but the latter can't be any worse than the work currently required to clean the toilet seat, toilet tank, floor, walls, magazine rack, and anything else within a 3 foot radius of the commode. Anyway, if I take the plunge with the Peter Potty (no pun intended), I'll be sure to let you know how it goes (when my son uses it of course…though it is named after me).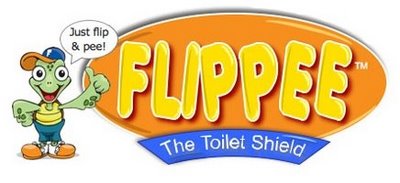 Update 4/5/09: Now, I never really expected to be updating this post, but thanks to my sister I have to do so. She checked out the Peter Potty and informed me that Amazon has another great potty tool that might better suit the needs of our five-year old. It's called Flippee the Toilet Shield, and as the name implies, Flippee is a big plastic shield that flips up and down to block any potential messes. I have to give the inventors credit – not only is the name awesome, but the logo is hilarious (see above – I love that turtle), and Flippee himself might just work, though he has a really awful job when you think about it. If nothing else, go to Amazon and read the reviews – they're really good for a laugh! You can see Flippee in action below…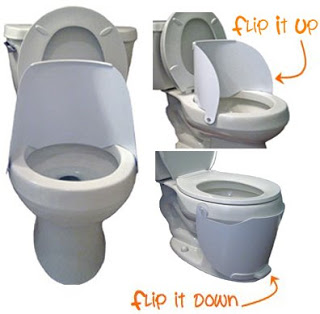 Update 7/1/09: Since I originally posted this, I now am the proud owner of a Flippee, and I'm happy to say that it works as advertised. It fits nicely on the toilet, stays out of the way when it folds down, and creates an effective blocking shield when my son is doing his business. After finishing, he enjoys spraying it down with a water bottle for a quick clean. Now if only I can get him to remember to use it on a consistent basis…maybe a height detecting automatic flip-up feature could be incorporated into a future release???
Below are links to both of these items on Amazon.com.