Introducing the dailymile Community Blog: Inspiration, Motivation, and Information for Your Active Life
Posted on March 30 2010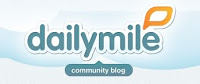 I was recently selected to be the editor of the new dailymile Community Blog (a big thank you goes to the dailymile Team for having faith in me!), and whereas this blog is written solely by yours truly, that blog is going to be a community effort in the truest sense of the phrase. The dailymile Community Blog is a place for active people to tell their stories of triumph and defeat, and for runners, cyclists, and swimmers (people participating in just about any form of activity, really) to share what they love most about their respective sports. If you haven't yet checked it out, hop on over to the dialymile Community Blog and check out what we hope will be a vibrant mix of humor, inspiration, motivation, and information.
You can subscribe to the dailymile Community Blog RSS feed.
---
Here's a selection of posts we have published to date:
Developing Self-Confidence Through Running: How I Found Myself Out on the Road
by Samantha G.
Running Barefoot and in Vibram Fivefingers: New Runner Starts Minimalist
by Michael B.
dailymile and Garmin Upload: Sync Your Miles
by John H.
Running the Boston Marathon: When Injuries and Bad Timing Mix
by Caleb M.

The dailymile Community and the Transformative Power of Exercise
by Peter L

Smart Goal Setting
by Caleb K.
The Better Music
by Chaz H.