Mizuno EVO Zero Drop Shoe Collection: Preview Video
Posted on November 06 2012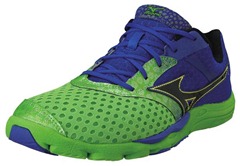 Just got an email from Mizuno with a link to a preview video that discusses their new zero-drop EVO line of running shoes (Mizuno EVO Cursoris in photo at left). Two observations from the video below: toebox shape looks great, and the black outsole on the shoe is ideally placed for a forefoot striking runner.
Hard to tell, but hopefully there is some rubber on the heel as well since any walking in the shoe will wear down exposed EVA in that area, and I'm sure many runner's will continue to heel strike in the shoe (a significant number do so in Vibrams!).
Looks like a very promising offering from Mizuno!
Here's the video: