New Running Book: Born to Run: A Hidden Tribe, Superathletes, and the Greatest Race the World Has Never Seen, by Christopher McDougall
Posted on April 22 2009
Update 5/16/09: I've finished the book, and it's phenomenal. Click this text to read my full review of Born to Run by Christopher McDougall.
Update 5/6/09: "Born to Run" is now out in the stores. You can order it here.
My past few posts on this blog have dealt with the topic of why humans are tops among most all animals when it comes to long-distance endurance running (see my Evolution of Running in Humans post, and my Persistence Hunting post). Well, it just so happens that a new running book is set to be released on May 5th that deals to a certain extent with these very topics (and I honestly had no idea until after I put out those posts – a link to an article by the book author came across my Twitter wire last night).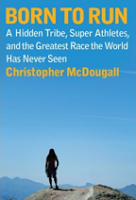 The book is titled Born to Run: A Hidden Tribe, Superathletes, and the Greatest Race the World Has Never Seen, and authored by Christopher McDougall. The book has been receiving some buzz in the media, and the article mentioned above seems to be linked to by a number of running sites. The basic premise of that article is that we are killing our feet and legs by wearing modern, high-tech running shoes, and questions whether they are really worth the money we spend on them. You can view it yourself by clicking the article title below:
The painful truth about trainers: Are running shoes a waste of money?
This article is sure to generate some controversy, and I'm not yet sure that I'd give up my fancy shoes, but it's very thought provoking. I don't know much else about the book, but it sounds interesting enough to me as an evolutionary biologist and runner that I plan to give it a read when it comes out.
Here's an excerpt from the book description on Amazon:
"Full of incredible characters, amazing athletic achievements, cutting-edge science, and, most of all, pure inspiration, Born to Run is an epic adventure that began with one simple question: Why does my foot hurt? In search of an answer, Christopher McDougall sets off to find a tribe of the world's greatest distance runners and learn their secrets, and in the process shows us that everything we thought we knew about running is wrong.
With a sharp wit and wild exuberance, McDougall takes us from the high-tech science labs at Harvard to the sun-baked valleys and freezing peaks across North America, where ever-growing numbers of ultrarunners are pushing their bodies to the limit, and, finally, to the climactic race in the Copper Canyons. Born to Run is that rare book that will not only engage your mind but inspire your body when you realize that the secret to happiness is right at your feet, and that you, indeed all of us, were born to run."
If you're interested in purchasing this book, you can find it on Amazon by clicking the button below: