On Running Speed in Vibram Fivefingers: A Post by Matt from Run Luau Run
Posted on July 30 2010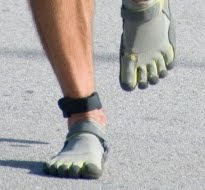 My buddy Matt, author of the Run Luau Run blog, just put up an interesting post in which he discusses the issue of performance as it relates to his personal experience running almost exclusively in the Vibram Fivefingers shoes. Matt is one of the most experienced minimalist runners that I know, having run well over 1000 miles in Vibrams, and having completed 3 marathons and a glut of shorter races in them. We will be running the Hampton Smuttynose Rockfest Marathon in NH together this October, and he has his eyes set on a BQ time – we run a similar marathon pace, so we might just wind up running together for a good chunk of the race. In his post, Matt makes the following observation:
"People are constantly asking me, 'Can you run fast in those, uh, things?' They point at my Vibram Bikilas or Treks, not sure what to make of them."

This, or some variant upon it,  is a common question asked of those of us who venture out into public wearing the Fivefingers. I was once surrounded by the entire staff of a Finish Line shoe store in our local mall and peppered with questions about the shoes. What Matt focuses on in his post is the question of speed – although anecdotal, his experience tells him that he can run faster in the Vibrams than he can in more traditional shoes, even though he still tends to be a heel striker (there are excepetions to every rule, and Matt might just be the guy to show that not everyone switches to midfoot/forefoot in these shoes). He's probably too modest to mention it, but a few days ago he ran a near 5:30 mile in the Vibrams. He speculates that for him the issue might be a combination of less weight on foot and a more efficient stride in the Fivefingers:
"So what am I getting at?  Vibram Fivefingers are my racing shoe. They literally are half the weight of my old Brooks trainers and I am convinced that they have helped me reached times that I wouldn't have had otherwise. Between forcing me to run in a more efficient manner and allowing me to carry less weight, my speed has picked up. At the age 40 and with only a little over a year of consistent running under my belt, I was able to record a sub-40 in just my second 10K. I was not a runner before November 2008.  Was it solely because of the shoes? No way! But I don't doubt that they had a huge part in my race that day (of course, I still missed the podium by a few seconds)."
Matt's a great writer and a great guy, and I'd urge you to check out his full post here: http://runluaurun.com/2010/07/27/its-all-relative/
Update 7/29/2010 – #1: After reading Matt's post, I had to try it myself in my Bikilas. Went for one mile at full speed, and finished in 5:52. Pretty close to my fastest recently recorded mile, and right in line with what I have run in my racing flats. Excited to try again with fresher legs!
Update 7/29/2010 – #2: Apparently I started a mini-challenge. Another on-line friend of mine, Dennis M., saw my workout post on dailymile/Twitter and decided to try a Vibram mile himself. His result? 5:42 – fastest recorded mile of his life in VFF Sprints. Check his workout out here: http://www.dailymile.com/people/dennymayo/entries/2686971