One Hundred Pushups: Great Upper Body Workout Program by Steve Speirs
Posted on December 02 2009
It's pretty clear from the title of this blog that my favored form of exercise is running.  Unfortunately, running doesn't do much for building upper body strength, and my legs are in far better shape than the rest of my body as a result.  One of the resolutions/goals I've set for myself this winter is to try and do some form of regular upper body exercise, and since I don't belong to a gym or have a decent set of weights at home, I've decided to give another crack at starting a regular push-up routine.  The beauty of push-ups is that they require no special equipment, they can be done almost anywhere at any time, and they provide a remarkably good upper body workout.  However, it still requires a degree of discipline to get down and do them, and for that I'm now turning for a second time to the 100 Pushups Program.

The 100 Pushups Program was developed by Steve Speirs (also known as @britishbulldog), a great (and ridiculously fast) guy that I interact with frequently on sites like Twitter and Dailymile.  With 100 Pushups, Steve has created a detailed 6-week program to get you to the point where you can do 100 consecutive pushups without stopping. You start by doing an initial pushup test, and based on the results you choose one of three program levels that is most appropriate for your ability. You then progress through the six weeks by performing three push-up workouts per week, each of which consists of 5 sets of push-ups with a specified period of rest between sets that decreases with each workout, each week.  The number of push-ups per set varies within a workout, but increases steadily with each workout, thus building strength over the duration of the program.  It's really quite simple to follow, and I've found it to be very effective.  You can print out a copy of the program from the hundredpushups.com site here.
I'm now making a second attempt at completing the 100 Pushups challenge, and it's going well so far (my first attempt was sunk by a summer vacation and the resulting lack of motivation – my fault entirely).  My initial test placed me in level 3, and unlike the first time around, I decided to start the program at week 1 to ease myself in more slowly (if your initial test result exceeds 20, you can opt to skip weeks 1 ad 2).  So far, my pushup total in a single workout has increased by about 50 in 2.5 weeks (69 on week 1, day 1 to 121 on week 3, day 2)!  I'm doing the program via the Hundred Pushups Iphone App this time around, which is a handy way to keep track of your progress (it can also send your results to Twitter/Facebook). I also like how the Iphone app tells you exactly how many push-ups to do for each set, and it times the rest period between sets for you.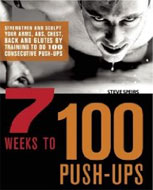 Finally, Steve has now written a companion book to go along with the program outlined on the hundredpushups.com website.  I'm ashamed to admit that I haven't bought it yet (sorry Steve!), but it's on my Christmas list for this year.  For more information on the book, check out the 7 Weeks to 100 Push-Ups book page on the hundredpushups.com website or view the book page on Amazon.com.
So, if you're looking for a bit of motivation to get in some upper body work, I highly recommend the 100 pushups program.  It's easy to follow, and so far seems to be very effective at improving upper-body strength.  What's more, Steve is an incredibly supportive guy in many ways, and he's very open to giving advice and cheering you on as you move through the weeks.  If you're on Twitter, you can follow him as @britishbulldog or follow the @100pushups account.  Give him your support by trying out his program, and I'm sure he'll be there to help you through.
---
Download the 100 Pushups app for $1.99 on
---
The One Hundred Pushups book can be purchased from Amazon.com by clicking on the box to the left.