Quit Your Job and Travel
Posted on October 14 2016
HOKA Athlete Jen Benna is known for dominating in the ultra world. She's had podium finishes at almost every ultra she has run in the last 4 years, most recently including a 3rd place finish at Leadville Trail 100.
This year, Jen made a big change in her work, family life, and training. She took the leap to quit her full time job to focus on the more important things in life. The first step was packing her life into a camper and moving to Alaska for the first stop on her journey. Jen says the hardest part was making the decision to do it, and seems to have no regrets since. We sat down with Jen to learn more about this huge lifestyle change and the incredible positive impact it has had on her and her family.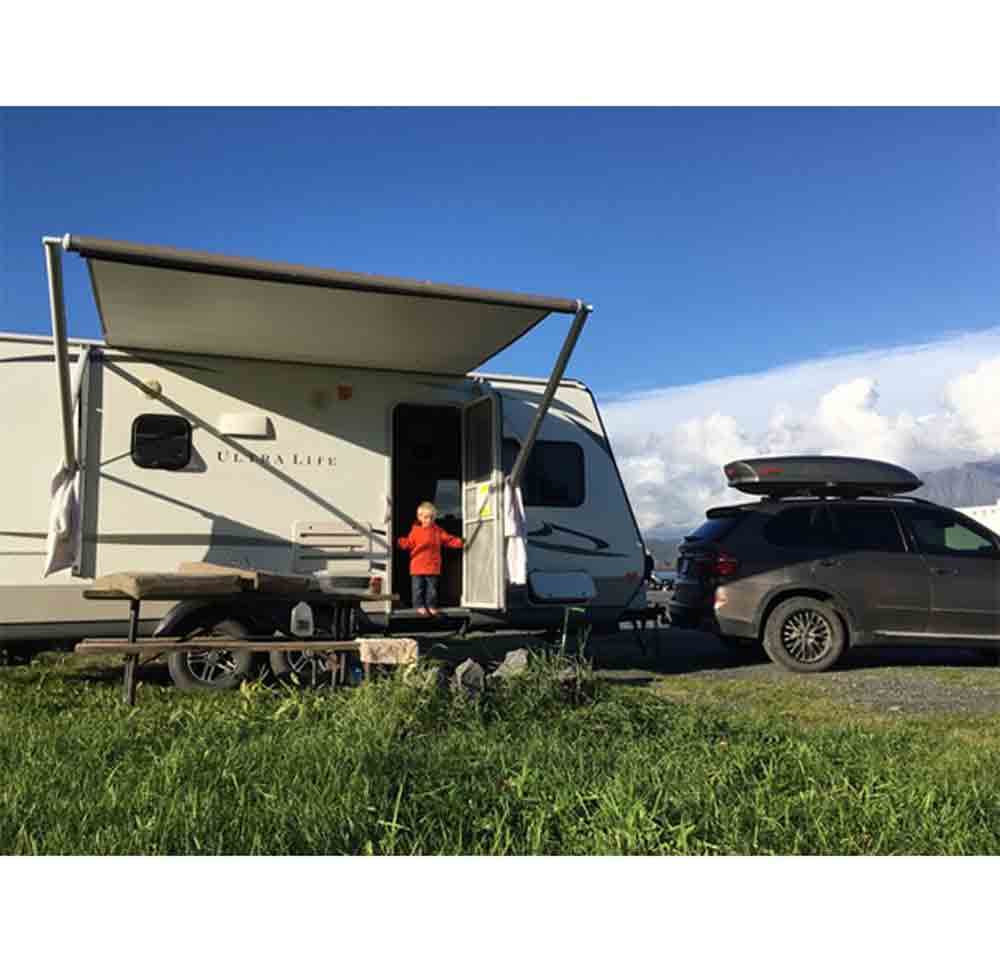 HOKA: What made you finally make the decision to quit your job and start traveling with your family?
Benna: I don't think changing my lifestyle happened overnight. But certainly there were a few wakeup calls that pushed me to rethink what I was doing with my time, my life, my family and why. There's always been a wanderlust in my blood. A desire to not stand still, to be in nature, in new places and to share them with my children and my husband. But as time went on, I was feeling so confined within a corporate job and only getting a few weeks of the year to travel. I kept thinking is this it? Is this all we get? I mean, I was so grateful to have a great job and to provide for my family, but I was getting a feeling that I needed to take a break. Then, my little brother passed away very tragically and we had been dealing with ongoing health issues after my daughter's surgery and ICU for over a year. The stars really aligned and the universe was telling me- it's time, it's time to go. You can work your whole life, but you may never get another chance to go do something big like this anytime soon. My whole life had changed and I knew it was time. So we went.
HOKA: What was the biggest thing that held you back from doing something like this earlier? How did you get past it?
Benna: I think particularly in the US, in our culture, work is king. You go to school so you can get a job, to make money, to provide for yourself, for your family. I always bought into that. It was what defined me coming out of college. Work hard, find a great job, do something good and take the time you get for vacation and make the most of it. I have always had a strong work ethic and I never thought I could ever leave a job to do something that on the surface seemed so wild, so irresponsible, so different from our cultural norms. And to do it with a family? I never thought it was possible, even though I dreamed about it for years. 
I finally stopped caring what everyone thought. I knew my husband and I were resourceful, had saved enough to be frugal and that jobs could come in the future. But time would never come back to me. I could never get back my children's youth and the time with them was worth sacrificing, living simply and stepping out of the comforts we got so used to.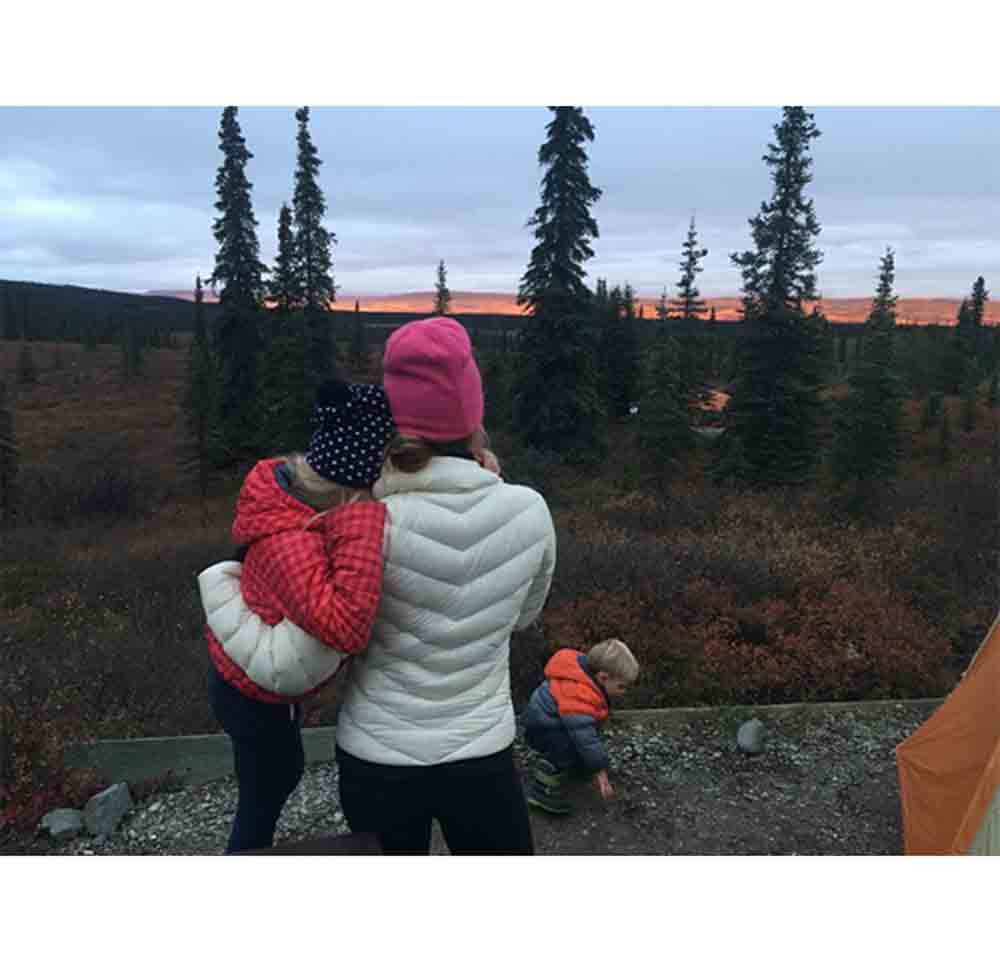 HOKA: What lifestyle changes were a part of this decision?
Benna: The most important thing we had to do was to decide it was possible. To change our mindset. Then the lifestyle changes could happen. To budget, to save, starting with basics such as not eating out very much or shopping only for necessities. The other major part was just getting used to not being on the phone, email or working so much. It was really hard at first. I wanted to check my phone, to call my co-workers, clients, etc. because I have worked almost continuously since I was 14 years old. Then I realized I can breathe, I can not feel guilty about being with my kids or not working. It took a complete mental overhaul. 
HOKA: What was your favorite part about Alaska?
Benna: Alaska was our choice because of how far out there, how wild it really is. We spent almost 4 months there minus my time training and racing in Leadville for the LT100. So it's really hard to pick my favorite place, but a few moments really standout. Taking a 6 hour bus ride into the backcountry with just what we could carry on our backs to camp at Wonder Lake was a standout. As we camped out in subfreezing temps, I read my children Dr. Seuss in our tent, snuggled up, surrounded by blueberry bushes and the Alaska range. We loaded the kids into our running stroller and ran long distances amongst majestic moose, caribou, and grizzlies. Because of weather we had waited all summer to see Mt Denali and on the last day, the 20,320 foot peak came into view. I have never been so in awe in my life. Denali changed us. It seeps into your mind, it creates a desire to be near it, to stand on it, to respect the mountain. It capped off the most wonderful experience for our family.
I also ran the Historic 33 mile Chilkoot trail, which in the late 1890's was the back breaking mountain crossing to the Klondike gold fields in Dawson City. Brave gold seekers traversed the "Golden Stair Case" on foot, by sled and hand made boats.  Many people perished on that trail and it brought a whole new perspective to running. I ran the trail in about 8:00 flat and without intention, later found that I had set a fastest known time on the trail for females. It was the most pure line through the mountains I have ever run. Combined with so much history and with only brutal wilderness surrounding, it was perhaps the highlight of my time running in Alaska.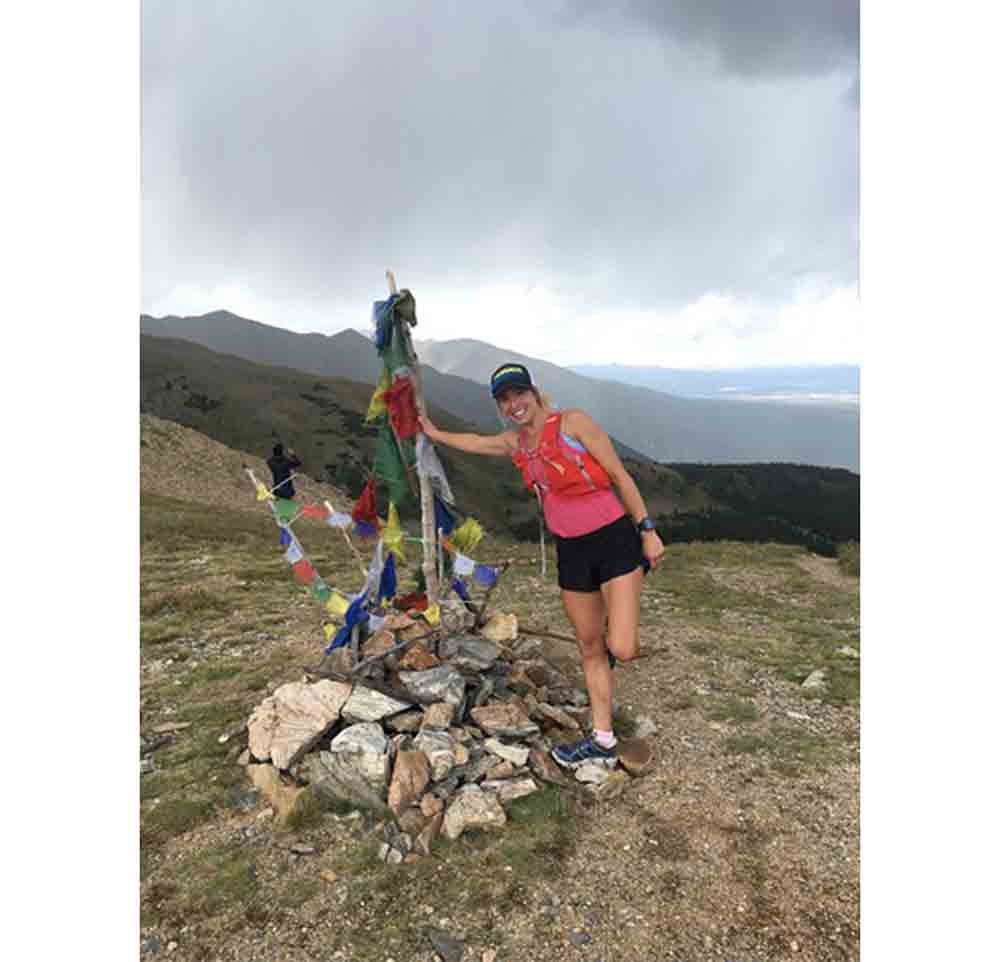 HOKA: Where will you be traveling next? How did you choose your locations?
Benna: After many short trips to Spain, we fell in love with the country, the people, the mountains and the culture. I think that's where we will spend our late winter and spring.  
We have to be realistic about how many places we can travel with our two young kids. We have to figure in adequate time in each place to let the kids acclimate, to not feel rushed and to be rested. We don't want to hurry. So less is more for us. If we get to know a few places really well and we feel like locals, then the goal is achieved. 
HOKA: How long do you plan on maintaining this lifestyle?
Benna: If I could find a way to support our family with this lifestyle I think we could do it for a long time. It's nice to have a home base and to know it's there when we need it, but I could see us traveling for many months of each year. Of course, the challenge is figuring out financially how to do that. So we know it might not last for a really long time and we are prepared for that. But in either case, we have gained a new perspective that puts family, health, marriage, travel and purpose over seeking endless financial riches. With these new priorities, our lifestyle will never be the same no matter how we end up supporting ourselves.
HOKA: What is the biggest challenge of this lifestyle? What is the biggest benefit?
Benna: The biggest challenge is being in new places and having to figure out your bearings. The logistics of traveling with kids so young (2 and 6) can be challenging. What might look to be a 4 hour drive can quickly turn into 8 with stops, temper tantrums, and food needs. Patience and letting go of control over that is the only way this life works. Being a great mom is always the priority- not the travel itinerary. 
The biggest benefit is the absolute freedom we have. We homeschool our older child and we do her school work from mountain vistas or from our camper or from picnic tables. There is no set place- no conformity. She is learning as much as in traditional schooling but we are adding in so much about what we are seeing and experiencing that its a robust education for her. We are so simple and inspired in what we see and do each day that at night we are absolutely spent. I have never felt my heart so full.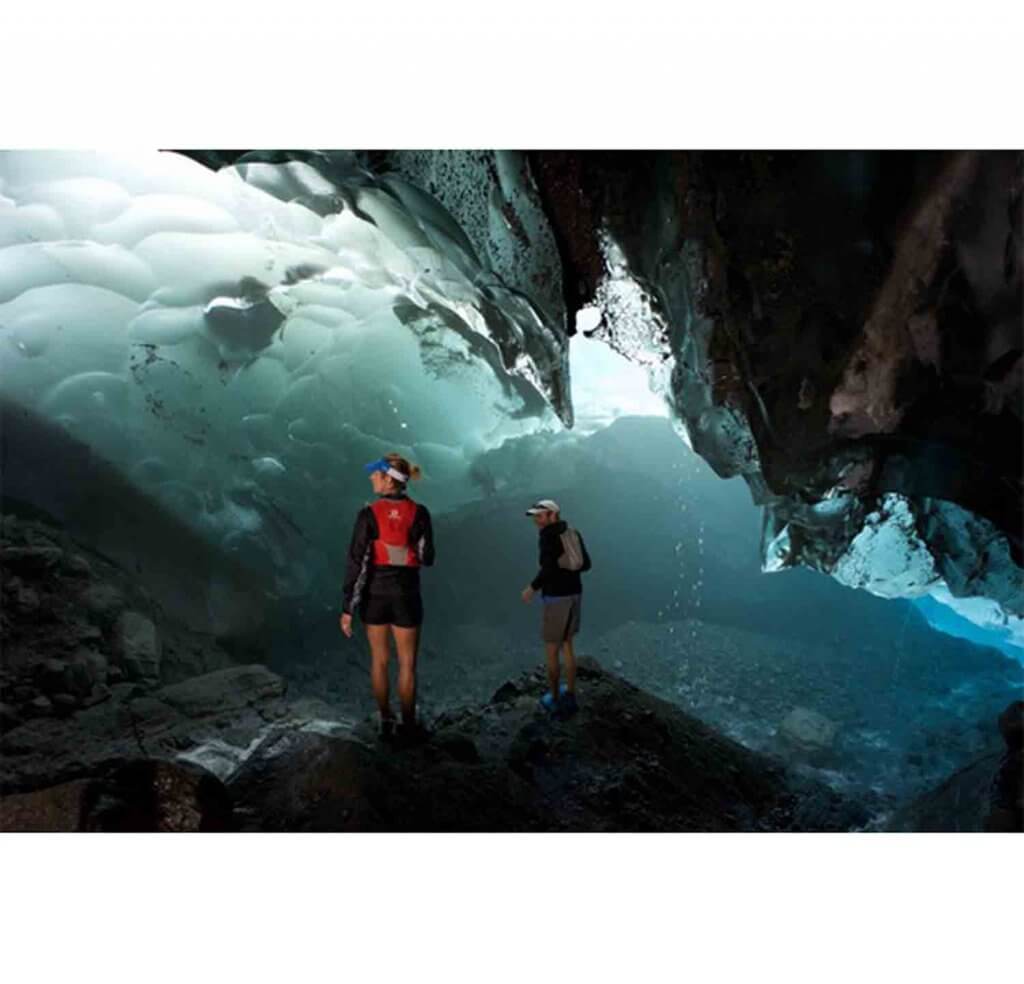 HOKA: How has your training been influenced by this lifestyle?
Benna: Alaska in particular has reinvigorated my running in a way I can't fully express. The mountains there are unlike anything we have in the lower 48. I once spent 5 hours to cover 15 miles with Geoff Roes and his Juneau running friends, only to have to glissade down several thousand foot snow fields in a whiteout, hoping we weren't too close to the cliff face somewhere below us. I started to learn how to really run technical terrain and there weren't a lot of runs that were without major views, clean and cold mountain air, lots of rain and the chance a grizzly could be really close by.
But in general, I was able to really put in the work this summer for Leadville more than I could before. I had hiccups, sure, but I could finally justify being out there more. I also was able to take more time for prehab, PT work and the little things that add up to putting forward your best foot come race day.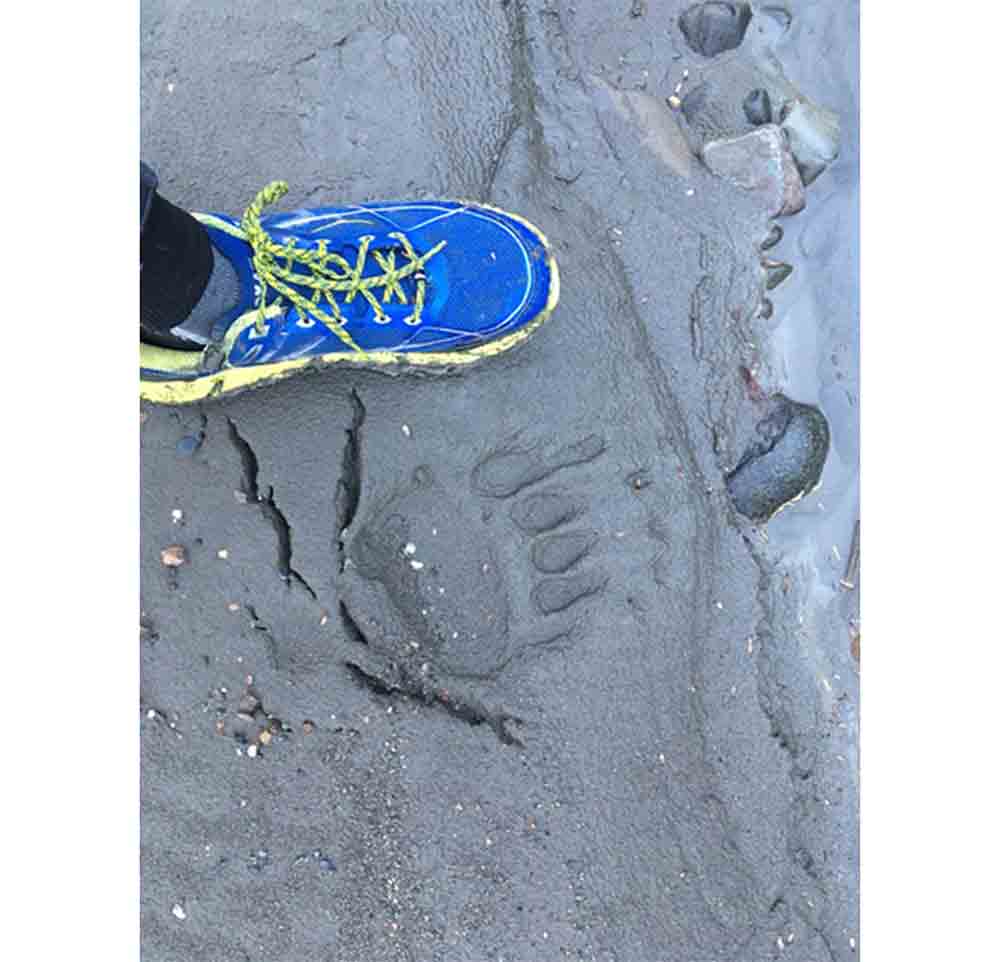 HOKA: What is your next big race? What are your expectations for it?
Benna: I'm leaning towards jumping into the mix at the North Face Endurance Championship 50 in San Francisco this December with the intention that it will make me work hard for my real first A goal race next year- Transgrancanaria 125k in late February. I really don't expect anything for TNF50 other than it will be really fast, always a deep field in one of my favorite places to run, the Marin Headlands. I think this summer and even Leadville taught me that I only race well when I am really in love with the course and the race. I loved Leadville with such a passion that finishing on the podium was just icing on the cake. So no more racing just to race. If I toe the line, I expect to compete with passion.
HOKA: How do you think this lifestyle will influence the people your children grow up to be?
Benna: Our young children are one of the major reasons we took a leap of faith to change our life. They are growing up so fast and I want to give them a basis of simplicity in such an overwhelmingly technology driven world. Not having any internet nor TV was a blessing this summer. Instead the kids enjoyed making friends, hiking and riding bikes at remote campgrounds. I understand that technology has it's place in modern society but the foundation of who they are should be more simple than that. I want to give them mountains, camping, hiking, respecting our land as something that grounds them growing up.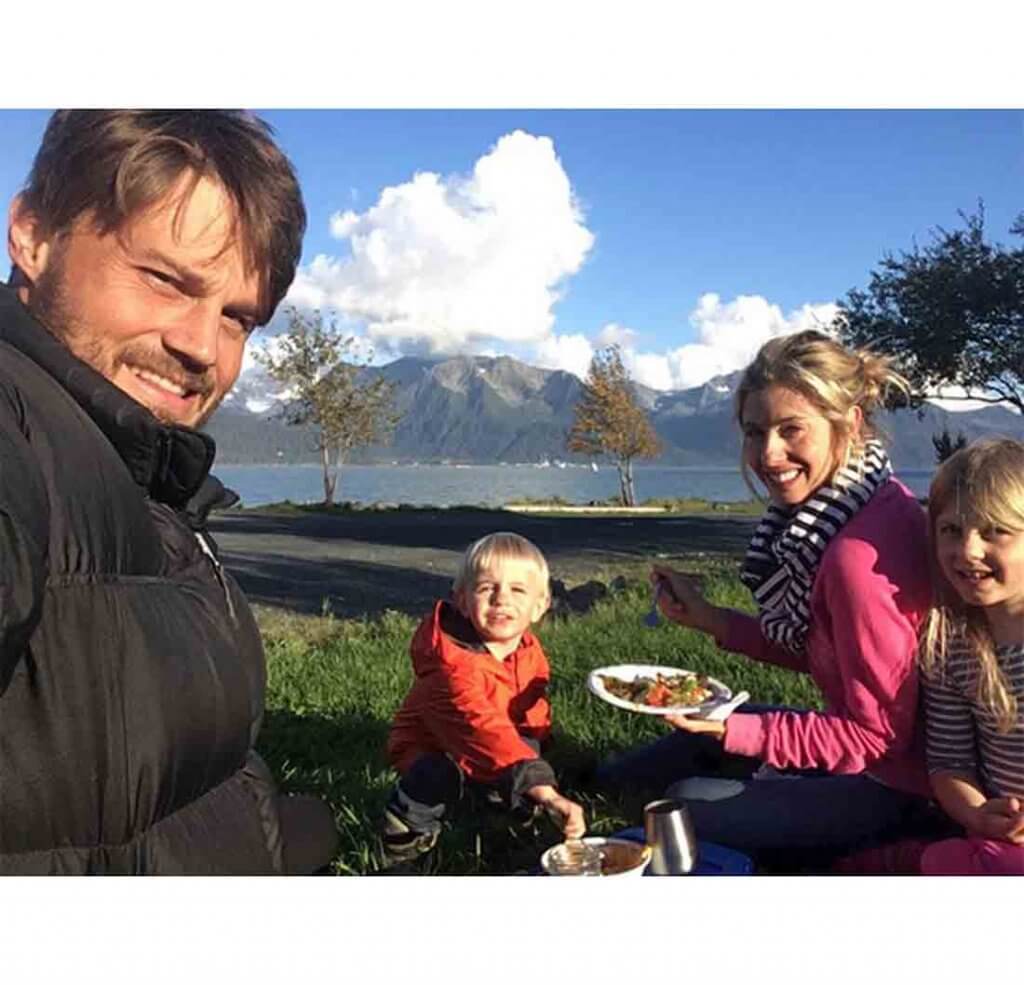 HOKA: What does your daily life look like now?
Benna: My life is a lot more unstructured and less rushed than ever before. We prioritize my daughter's learning, my running, good eating and resting more than we ever have before. I actually am reading books for fun now- which is something I never ever had time for. Sleep is really important and I think I am making up for the past 5 years of not really sleeping much. With two kids however, we are so busy I wonder how I was able to work full time, run so much and be a mom.  I am a happier person not being so stressed out.
HOKA: What advice do you have for someone considering to make a big change like this one?
Benna: To really think about life as if you have already lived it. Will not changing your life cause you regret? Will you always wonder- what if I listened to my heart and went for it? In the end, if the answer is yes, than you should make the changes that will allow you to follow your dreams and everything else will fall into place.