Running at Night: Gear for Runners and their Dogs
Posted on November 13 2009
With winter rapidly approaching, the days have being getting progressively shorter up here in New Hampshire, and I've committed myself to running in the dark as a way to make sure I keep getting the miles in.  Running at night presents some challenges, the most obvious of which are avoiding running into something, tripping, and getting hit by wayward vehicles.  Fortunately, these hazards can be avoided with the proper gear, and below are some of the items found in my night-run gear collection.
1. Petzl Tikka Plus Headlamp
Running at night without some form of illumination is virtually impossible, and my preferred lighting solution is a small headlamp made by Petzl. The Petzl Tikka Plus is lightweight, inexpensive, comfortable, and provides more than enough light for running on roads like I typically do. You can set the beam at three levels of brighness, or as a blinker, but I typically only use it at the brightest setting. The light is produced by 4 LED bulbs, and it runs on 3 AAA batteries (which I have not had to replace yet, so I don't know how long it runs before they need to be changed). So far, I've been very happy with this headlamp, though I'm not yet sure how well it would work for trail running – for that you might need something brighter like the Black Diamond Sprinter (reviewed here).
2. Amphipod Xinglet Pocket – Reflective System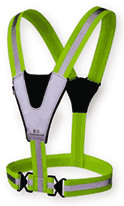 Since I do most of my night running on roads, wearing something that is highly reflective is an absolute necessity.  For that purpose, I use the Amphipod Xinglet Pocket, which is a strap-like reflector system that fits over your shoulders and wraps around your waist.  I like the Amphipod because it's very minimalist, lightweight, and when I wear it I barely notice that it's on (the straps are adjustable so you can snug it up or keep it loose depending on your personal preference).  The Xinglet Pocket differs from the plain Xinglet by having a chest pocket built into the front – I stash a blinker in the pocket in case I feel the need for a bit more visibility.  As far as reflectivity, the Amphipod Xinglet is very bright in car headlights (see photo below), and it's apparent that I can be seen since cars always give me a wide berth while passing when I have the Xinglet on.  I've been using my Xinglet for over a year, and I'm very happy with it so far.
3. Brooks Infiniti Jacket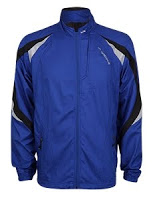 I bought the Brooks Infiniti Jacket under its previous name, the Brooks Element Jacket – the styling is very similar between the two.  The Brooks jacket is by far my favorite running jacket – it fits me perfectly, is water resistant (though I would not call it waterproof), wind resistant, and does a great job as an outer shell on all but the coldest of winter days in New Hampshire.  What's more, the reflective panels on the jacket shine very brightly in headlights (see photo below), which makes this my first choice for outerwear when running at night.  To top it all off, the jacket has a well-designed chest pocket for my Ipod Nano (although I go sans music at night so I can hear cars) – it's positioned in such a way that the Nano doesn't bounce back and forth while I run as it would in more typical pocket locations.  All in all, this is a great jacket for both winter and night-time usage.
Below is a pciture of me sporting all three of the above-mentioned products: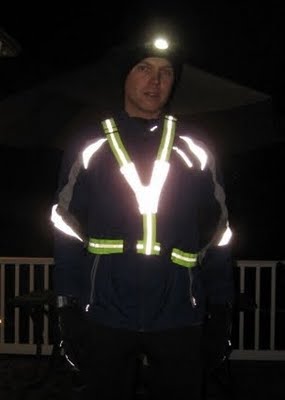 4. Viz Vest Reflector for Dogs
My dog Jack is a frequent companion on my runs, and given that he is a black lab, he can be very difficult to spot in the dark.  For his safety, I just purchased a Viz Vest reflective vest, which is made by a company called Kemper Brothers.  Jack took his first run in the Viz Vest tonight, and I'd rate it as a big success.  He didn't seem bothered by the vest at all, and the thing is ridiculously bright – the poor dog lit up like a Christmas tree every time a car came towards us, and even just the light from my headlamp was enough to illuminate him brightly.  If you want your dog to be seen, the Viz Vest works great.  It comes in sizes suited for various breeds of dog, and the way it fits provides plenty of room for full range of motion of his front legs while he runs (this was not the case with a reflective harness I tried a few days ago – he wouldn't move with it on and it will be returned to the store).  I can't yet comment on durability since Jack has only worn it once, but my early sense is that the Viz Vest is a winner.
Here's a picture of Jack in the Viz Vest – you can't miss him!: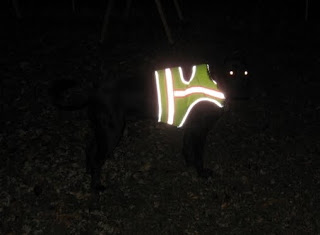 So there you have it – my short list of products for running safely at night.  If you have anything else that you find useful for night running, feel free to add a comment!