Running Down Memory Lane: Wolcott Elementary, Conard High, and "The Perimeter"
Posted on July 27 2009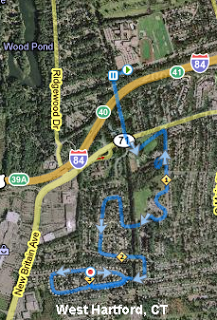 "The Perimeter." Mere mention of the phrase still strikes fear into my now 34-year-old heart. "The Perimeter" is a blast from my past, and one that I have not-so-fond memories of.
I was never much of a runner in High School. I played soccer and tennis, neither particularly well, and running was always viewed as a form of punishment or conditioning. Never would I have chosen to run for enjoyment. In fact, one of my greatest sources of stress was being prepared to complete the 3-mile run in under 21:00 in order to be eligible for the varsity soccer team. I successfully completed this test only once (my senior year), and if I recall correctly, I only barely made it. I also have a strong recollection that I nearly vomited at the end.
In High School, running represented pain and suffering, and I thought cross-country runners were insane. Hence my fear of "The Perimeter." "The Perimeter" was the loop that covered the literal perimeter of the Conard High School grounds in West Hartford, CT. I'm not sure if I ever knew exactly how long the distance was, but at the time it was long enough. Sometimes we had to run more than one perimeter consecutively, and that was pure torture.
Flash forward about 17 years, 2 marathons, and an 18:51 5k PR (2008) later, and there I stood yesterday as a dedicated distance runner in the driveway of my childhood home, trying to figure out where to go on my run. Usually when I'm back in CT I run at the West Hartford Reservoir – there's a great 3+ mile, paved trail through the woods that is a beautiful alternative to the congested neighborhoods near my house. If you're ever in the central CT area, I highly recommend it for a run. However, yesterday my time was limited, and I had to sneak a run in from my parents house. For some reason, a fleeting memory of "The Perimeter" popped into my head – I honestly hadn't thought about it in well over a decade, and I thought I'd run over to the school and measure it out. Often, memories from long ago make what is actually a short distance into a route of marathon proportions, and I was curious to see just how long "The Perimeter" was. Thanks to my Garmin Forerunner 205, I had the technology to figure it out.
I set out from home, looped around the neighborhood once, then headed over to the school. On the way I passed many of my old haunts, including my elementary school and the park where I used to play soccer, baseball, and street hockey (the only sport I was ever any good at). The heat and humidity were miserable, but I took a few breaks at road crossings, and arrived at Conard High School after about 2.4 miles. I stopped in front of the tennis courts (where our "Perimeter" runs typically began), reset my Garmin, and started my loop. Here's a map of the completed route from my Garmin and Sportracks (the blue line):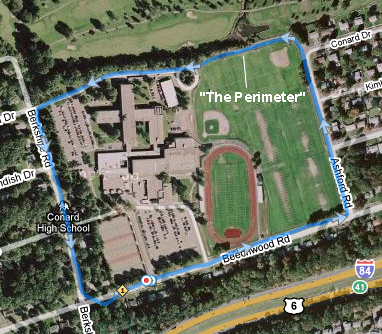 And the stats? Final distance = 1.03 miles, pace = 7:22min/mile. Taking the potential for slight GPS error into account, the distance was almost exactly 1 mile. I took it fairly easy given the heat, but all kinds of memories flooded my head as a ran the loop. In a strange way, it felt weird to be running "The Perimeter" solo – it was usually something done as a team, and it just didn't feel right doing it by myself. Turns out the distance wasn't so minimal after all, even if 1 mile is fairly short given my marathon training distances these days. It felt great to return to my "running" roots, if only for a day, and I highly recommend the experience if you ever have the opportunity to return to your childhood hometown. Some memories only seem to be brought back if you put yourself at the site where they took place, and this was certainly the case for me. I now find myself wishing I had run cross-country in high school, as I think I would have been much better suited for that than the sports I chose, but the past cannot be changed, and the present and future are more important anyway. On the plus side, I don't have a collection of ridiculous high school PR's to depress and taunt me in my now older-age.
Image via Wikipedia
One additional story is worth recounting from this run. Every once in awhile, my Ipod Nano, when set to shuffle, seems to know exactly what song to play at a given moment. It doesn't happen often, but when it does it has the potential to carry me through a rough patch on a run. Yesterday, as I ran home from my High School, I also ran through the grounds of Wolcott Elementary School, where I attended grades K-6. Just as I passed the front door of the school, the Nano pulled out the song "Walcott" by Vampire Weekend (this was Wolcott School, remember). It was mere coincidence, but the name similarity made it the perfect song for that moment, and it carried me through a little extra distance. As I finished up in my childhood neighborhood with a final loop around the block, the song "Do You Remember" by Jack Johnson came on – simply perfect for the moment, and a great way to cap of a run down memory lane.