Running in Heat: Crashing and Persevering with the Help of a Camelback, Energy Gel, and Cellphone
Posted on June 28 2009
Today's run sucked. In the two years that I've been running seriously, this was easily one of the top five in terms of overall suckitude. It was hot, it hurt, and I nearly bailed out on it halfway through. Sometimes, though, the worst runs can be the most satisfying, and today's was very much one of those.
I woke up this morning with intentions of running a 13 mile long run, but knew from the start that it was going to be hard if it happened at all. My legs felt dead, and I'm not really sure why. I've been running in the warm weather fairly regularly, and thought I was acclimating well, but today let me know that I need to pull back a bit when it's really hot out. The plan was for me to go to the local Farmer's Market with my wife and kids, and then run home from there, a distance of about 8 miles along a very hilly route (see elevation/pace profile below). If all went well, I would add a few additional miles by looping around the neighborhoods around my house. I was excited because this is a route that I don't do very often, and the change-up in scenery would be refreshing.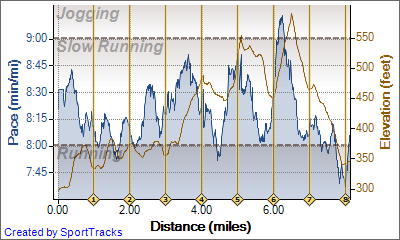 When I started the run, it was in the low 80's and sunny – much hotter than I initially anticipated. Thankfully, I brought along a full Camelback, my cell phone (I bring it on long runs in case of emergency), and a Carb Boom gel in case the heat became a problem. All three of these things played important roles in today's run. I could tell after the first few miles that the run wasn't going to go well, and that I would have to revise my mileage plan downward. By mile 3.5, I was hurting bad, my legs felt like lead weights, and I began to think that I wouldn't even be able to make it home. At mile 4 I did the unthinkable – I admitted defeat and stopped running. I drank some water, ate a gel, and pulled out the cellphone and called my wife for a rescue ride home. In two years of running, the only other time I have called home for rescue on a run was when I got caught in a thunderstorm, which I deemed to be a reasonable excuse.
To my initial frustration, my wife didn't answer her phone after repeated calls, and I was left with 3 options:
1. Stand there on the roadside and keep calling until she answered.
2. Walk the remaining 4 miles home and risk being late for an athletic function for my son later in the day.
3. Suck it up and run the remaining distance as best as I could.
Neither of the first 2 options seemed very appealing, so I took off my headphones, carried the phone in hand, and decided to start running again and see how it went. The water and gel definitely helped, and I made it another mile before stopping again at the top of a fairly steep hill at mile 5. I told myself that I would run to the top of each big hill, and not feel bad about taking a break if I needed it. I wound up taking 3 breaks total, and pulled through the remaining 4 miles at a pretty decent clip considering the conditions and the hilly route. All told I ran 8.16 miles in 1:08, for an average pace of 8:23 min/mile.
Although the run was a killer, the fact that I finished it without the rescue ride made it one of the most satisfying runs I have done. I think the mere act of having the phone in hand kept me from calling again. I didn't want to quit, and opening that phone up again would be a full admission of defeat. I guess the moral of this run for me was that running in the heat is hard, but with proper foresight it can be managed. The combination of the Camelback, a well timed gel, and my cellphone kept me going to the finish, and although I had to stop a few times, this will definitely be a memorable run, though one I hope not to have to repeat any time soon!