Running Sock Reviews: injinji, Swiftwick, and Wrightsock
Posted on October 26 2011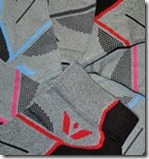 In a perfect world I wouldn't wear socks when I run. When at all possible, I do prefer to go sockless, but shoes that allow me to do this without developing blisters are few and far between. What's more, winter is around the corner, and socks become something of a necessity to help break the chill, though even on exceedingly cold days I prefer to avoid thick socks as they tend to be constricting, and reducing blood flo to and from the foot can be worse than just going sockless. So, much as I might not like it, a good pair of socks holds a definite place of distinction in my array of running gear.
Over the past six months I've received samples of running socks from three different companies: injinji, Swiftwick, and Wrightsock. All are slightly different in approach, and all make excellent socks that are among the first that I grab when I slide open my sock drawer. Below are some brief reviews (not as much to say about a sock as compared to a shoe!) and recommendations of socks from these companies.
---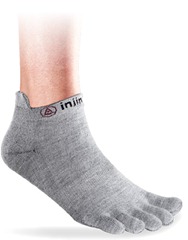 I've reviewed injinji socks previously here on Runblogger, and my experience with them has been uniformly positive. The separated toe design is one of the best out there when it comes to the prevention of toe blisters, and this is the only type of sock that I own that is wearable in Vibram Fivefingers shoes. One of the issues that one can run into when trying to wear socks with Fivefingers is that fit can be tricky since the Fivefingers can be snug fitting on their own.
Enter the injinji Performance Series Lightweight No-Show Toesock. This sock is similar in design to more traditional injinji socks in that it has the separated toes, but it is made of an ultrathin mix of CoolMax, Lycra, and Nylon fibers. It is noticeably thinner than traditional injinjis, and is probably one of the thinnest pairs of socks in my collection. This makes it ideal for use in Vibrams if one should desire to use them for that purpose, and they are great for when you just want a thin layer between your foot and your shoe to help prevent blistering. My only concern with a sock as thin as this is durability, but I can't yet comment on that as I have not had them for long enough at this point to see any breakdown. Another great product from injinji.
For more information on injinji running socks, visit the injinji webpage.
---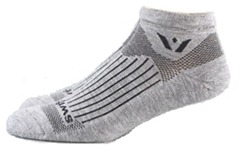 When I was out in Boulder attending the Newton Running retailers summit back in August my friend Tom from TR Treads in WV was raving to me about Swiftwick running socks. As we were standing in the hotel lobby, he pulled out his cell phone and called a rep from Swiftwick and asked him to send me a few pairs to try out. To be honest, I had never heard of the company before, but Tom indicated that they specialize in compression socks, and I've generally had positive experiences with compression socks.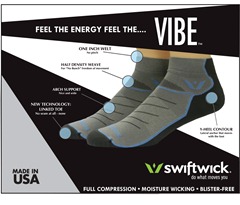 Swiftwick sent me three pairs of socks: the Pursuit (picture above and to the left), the Aspire, and the Vibe (pictured to the right). All are high quality socks – very impressive – and all are made in the USA (Tennessee to be exact). One of the things that is immediately apparent – and this is a major point that Swiftwick advertises – is the tight weave of the socks. I don't know a whole lot about knitting, but they are knitted at 200 needles, which I guess is a good thing as it's supposedly the highest knit density found in a sock. The compression provided by these socks is subtle, but they are comfortable and they don't squeeze my toes together. Of the three pairs they sent, I particularly like the merino wool Pursuit and the more traditional athletic style Vibe. Given it's slightly heavier weight, I suspect that the Pursuits will see heavy use this winter, and I have to admit a slight soft spot for anything made out of merino wool – just wish it wasn't so expensive!
For more on Swiftwick running socks, visit the Swiftwick webpage.
---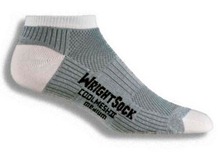 Though all of these socks are excellent, I've saved the best for last. It's rare that I see something in a sock that I find truly innovative. One could argue that injinji's toesocks are at least unique, but it wasn't until I tried out Wrightsock's double-layer design that I truly felt that I'd tried something completely new and different. The double-layer socks from Wrightsock are essentially a sock inside of a sock – there is a very thin internal sock and a more substantial external sock, and they are sewn together so that you don't really realize that there are two layers until you put them on. The effect of having two layers is that the internal layer hugs your foot, and because it is separate from the external layer, it can slide around relative to the external fabric. Hard to describe in words (see photo below), but the net effect is that these socks do a phenomenal job of reducing friction and blistering. The closest thing I can compare them to are the old sockliners I used to wear inside of wool socks when I went hiking.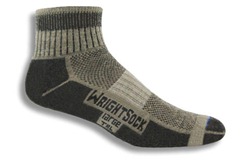 Of the socks that they sent to me, my favorites are the Coolmesh II (photo above) and Merino TRL (photo to the right – did I mention that I like Merino wool?), though you really can't go wrong with any of Wrightsock's double–layer socks. They do also make more typical single-layer socks called Wrightones, and these are equally high-quality, but the double-layer socks have really spoiled me. Like Swiftwick, Wrightsocks are manufactured in the USA, and I expect that durability will be very good.
Below is an image that shows the double-layer design better than I can describe it: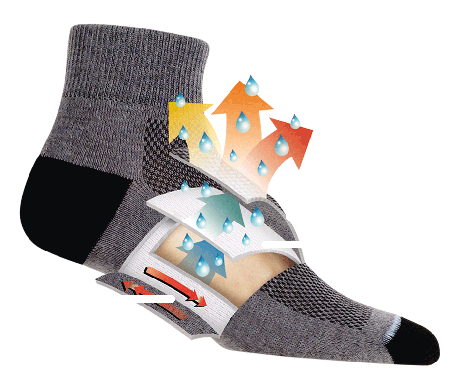 For more on Wrightsock running socks, visit the Wrightsock webpage.