This Week in Runblogging: 4/14 to 4/20 2014
Posted on April 20 2014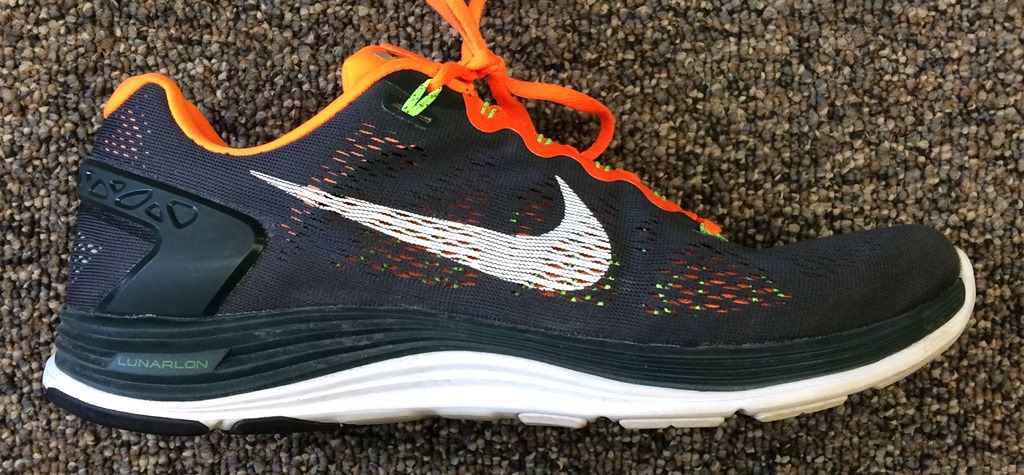 Another solid week of training in the books, and another 5K race completed (#2 of the year). The race was a bit of a surprise as I finished 50 seconds faster than I did in the 5K I ran two weeks ago, and was two seconds shy of a 5K PR – there's something to be said about getting your head used to the pain of a 5K! Pretty confident that PR will go down soon!
Runblogger Posts from Last Week
Beginner Running Tips: Nutrition and Hydration for the 5K and Beyond
April 17, 2014 – Outline of a nutrition/hydration presentation I gave to my beginner 5K group last week.
Running History: Is This 1885 Article On Shoes and Running the Original Born to Run?
April 16, 2014 – 1885 article from a guy that discusses footwear design, running for health, and lots of other interesting tidbits.
Inov-8 OROC 280 Trail Shoe Guest Review
April 15, 2014 – Guest review of a studded trail shoe by Carsten Hoever.
Nike Lunarglide 5 Review
April 14, 2014 – Great looking shoe, soft sole, but a bit tight in the midfoot. Think beefed up Lunaracer with less pointy toebox.
Recommended Articles From Around the Web
1. The Ginger Runner reviews the New Balance Fresh Foam 980. This is a shoe that seems to be either loved or hated by those who have tried it. Ginger Runner was not a fan: "The midsole material in this shoe is it's biggest selling point, but unfortunately is it's biggest flaw. Advertised as "soft, pillowy, marshmallow" goodness, the shoe feels more "brick-like, dense, dead" than anything." Also love his comments on the New Balance shoe numbering system: "Just call it the Fresh Foam, people will get it." Watch his Fresh Foam 980 video review here.
2. To me, a mark of a good product reviewer is when they are willing to write a negative review when it's warranted (much like Ginger Runner did in the review linked above). DC Rainmaker does this as well as anyone, and his recent review of the Samsung Gear Fit is a great example – he writes: "I'm honestly dumbfounded. It's as if nobody on the entire Samsung team ever stood back, looked at any of the fitness trackers on the market (even the worst of the worst) and copied anything that users actually use or value in an integrated activity tracker device." The comments section is quite entertaining! Ray also wrote a great post on how he chooses products to review – I can identify with a lot of what he wrote on the topic.
3. Patrick Voo writes a post titled "why not Skechers…?" Having myself gone through the process of scoffing at the brand (blinking lights and toning shoes!), to trying and liking their performance line of shoes, to now helping them with shoe development, I agree with much of what Patrick writes. Skechers Performance Division has a great team and they are making some excellent shoes that sell at very fair prices compared to other brands on the market. They are proving that shoes don't have to be expensive to be good. I still tend to be a Saucony guy when it comes to racing shoes (wore the A6 in my 5K on Friday), but I know several runners who will likely be going sub-3:00 in Skechers shoes tomorrow in Boston (Meb, Caleb, Seth to name a few). Why not Skechers? Read it here.
4. Sam Winebaum got ahold of one of the few pairs of the adidas Boston Boost available at the Boston Marathon expo. He's a big fan of the boost line, and he shares some quick thoughts about a shoe that slots somewhere in between the adios and Energy Boost.
5. Amy D. writes a great post titled "To Be or Not To Be Coached?" Amy is a fellow member of Team Wicked Bonkproof, and we thus share a coach in Caleb Masland. I've learned that having a coach is a great way to keep me motivated and accountable – I'm far less likely to skip or skimp on a run if I know someone is watching over me. I also like having someone I can ask for feedback about my training and racing goals. Amy's conclusion about her three month trial working with Caleb: "…has it helped? Has it been worth it?" And the answer is a definite YES. It's not just that in only 3 months of working with Caleb, I was able to PR by 6 minutes in my marathon. It's also that I can feel that I am a stronger runner and able to run more miles than ever before and feel better doing it than I ever did before."
6. Assorted shoe reviews: Pear Izumi Road N2 by Austin Bonds, Pearl Izumi Road N1 by Steve Speirs (this seems to be a shoe that really takes a few runs before it starts to grow on people – my experience as well as Steve's), Altra The One2 by Thomas Neuberger.
7. Finally, for fun, a poem about split shorts by Josh Sutcliff. And his blog background is awesome.