Top 5 Trail Running Shoes of 2012: List by Ultrarunner Nate Sanel
Posted on December 06 2012
A few weeks back I suggested that my friend Nate Sanel put together a list of his top five trail shoes of 2012. I've written about Nate before here on Runblogger, and in the coming year I hope to feature him as a regular contributor on topics related to trail and ultrarunning (including trail shoe reviews!). Nate is a far more experienced trail runner than I (his preferred race distance is 100 miles), and I respect his opinion as much as anyone's when it comes to trail shoes. Below is an excerpt from Nate's list – to view his top three, head on over to BikerNate's Blog. –Pete
---
I only have one absolute rule for what goes on my feet. The difference between the heel and forefoot cannot exceed 5mm. My sweet spot for a long distance running shoe is a lightweight upper combined with enough cushioning to run for hours upon hours at a time. I have sorted my list based on the number of miles I have put on that model this year. As of this writing I have run 3048 miles. Over 1500 of those miles were run in these 5 shoes. With that, I give you my top 5, in descending order.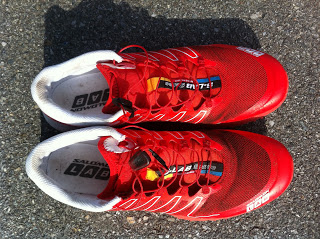 Salomon S-Lab Sense
#5 Salomon S-Lab Sense. (56.2 miles)
Pros – Light weight, snug fit, great rock protection, bad ass looking
Cons – Traction could be better, $200 MSRP, reported short life
I love the way these shoes feel.  I have run few miles in them because I'm trying to "save" them for just the right race and training situations.  You can read my review of them here.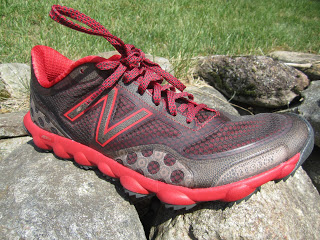 New Balance MT1010 Minimus Amp
#4 New Balance MT1010 Minimus AMP (121 miles)
Pros – Light weight, great trail feel, excellent drainage, excellent grip
Cons – "Baggy" fit, minimal rock protection, reports of separation of traction pods from sole
This shoe is growing on me every time I run in them.  The traction is really good, and they are an excellent balance between a barefoot feeling shoe and enough cushioning to run long. You can read my review of them here.
To view Nate's top three, visit the BikerNate Blog.
I'll post my own top trail shoe list soon – stay tuned!