Vibram Fivefingers Bikila: First Look from Justin at birthdayshoes.com
Posted on May 02 2010
As expected, the much anticipated Vibram Fivefingers Bikila made their first appearance in the US during the week leading up to the Boston Marathon. Word from several friends who went to the expo in Boston is that they look great, and the first reviews are just starting to come in.
First up, Justin over at birthdayshoes.com has published a Vibram Fivefingers Bikila first look based on a pair of Bikilas that he received from a source in Boston. I have to say that after reading Justin's initial thoughts, I can't wait to get ahold of a pair of Bikilas to try out for myself. Here are a few quotes from Justin's review:

"…as far as first impressions go, I'm happy to report that the Vibram Five Fingers Bikila — the first running specific Vibram Five Fingers model ever to be released — is worth the wait."
"On first sight, the Bikila is striking in its look — the Bikila looks fast"
"…in my short run in the Bikilas, my form felt light and comfortable. And when I sprinted down the street I felt like I was flying"
"If first impressions are any indication, the Vibram Five Fingers Bikila is the most well-built, stylish, and daring model to be produced by Vibram yet. I didn't know what I'd think of the Bikila, but I really, really like it so far."
Below is a picture that Justin posted in his review – these VFF Bikilas look great!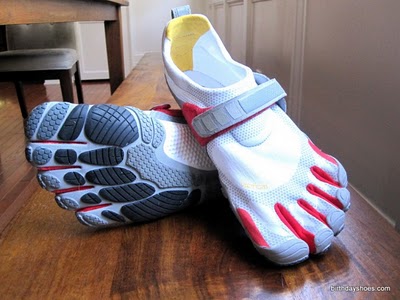 Justin does a lot of great reporting on the Vibram Fivefingers line of shoes, so if you haven't already, I highly recommend heading over to check out birthdayshoes.com.
Here also is the direct link to Justin's review of the Bikilas: http://birthdayshoes.com/vibram-five-fingers-bikila-review-part-1
Update 7/09/10: I just put up a post about my first run in the new Vibram Fivefingers Bikila. Check out my very preliminary Vibram Fivefingers Bikila review here.
To view my full list of post on the Vibram Fivefingers shoes, follow this link: https://runblogger.com/2010/01/vibram-fivefingers-posts.html