Vibram Fivefingers Running: Random Thoughts from a Part-Time VFF Runner
Posted on April 02 2010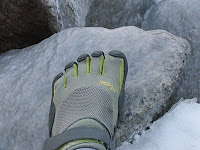 My posts on the Vibram Fivefingers have been fairly popular, particularly the following two posts that I wrote on my first couple of Vibram KSO runs:
Running in Vibram Fivefingers: First Impressions and Running in Vibram Fivefingers: The Day After
Because these posts were written way back in August of last year, and the Vibram craze continues to grow (apparently the soon to be released VFF Bikila is going to be very hard to come by when released due to consumer interest), I get a lot of questions about whether I still run in my Vibrams, and if so, what I think about them. Below are my answers to those questions, as well as some random thoughts on Vibram running.
1. With the exception of a month-long period spanning the time between the Hartford and Manchester City Marathons last Fall, I have been running regularly in my Vibram KSO's at least once, and sometimes twice a week. This includes a number of runs in the dead of winter in temperatures hovering around 10 degrees Fahrenheit (for an example, check out the video below). I've seen a number of people commenting recently that they can't wait to get back out in their Vibrams now that the weather is warming back up, but I can honestly say that cold was never an issue for me when I wore my Injinji socks with my Vibrams. I'm a huge fan of the Vibrams, and have every intention of continuing to use them regularly going forward into the future. If you have any questions about my Vibram experience, feel free to ask (comments/e-mails are always read and appreciated)!
Runblogger Runcast #2 – Winter Running in Vibram Fivefingers from Pete Larson on Vimeo.
Runblogger Runcast #2 – Winter Running in Vibram Fivefingers. Join me as a run along a wintery country road in New Hampshire in my Vibram Fivefingers KSO's. If nothing else, this episode shows that it's never to cold to go for a VFF run! Posted at: https://runblogger.com/2009/12/runblogger-runcast-2-winter-running-in.html.
2. My approach to Vibram running is not full-time. I tend to view Vibram running as a form of resistance training for my lower legs and feet. It's an almost universal experience that people will suffer delayed onset muscle soreness (DOMS) in the calf after their first few Vibram runs, and this is largely centered in the soleus muscle (lower portion of calf). This is a testament to the different type of workout you get when you remove the cushioned sole from a running shoe. I like to mix things up with my shoes (I run in Brooks and Vibrams), and basically feel that the more I can throw at my legs in terms of varying the biomechanical forces they experience, the stronger and more injury-resistant they will be under any set of running conditions (I have no evidence or scientific data supporting the injury part, just a gut feeling).
3. Vibram running is ridiculously fun. I can't overstate this enough – some of my most enjoyable runs have come in Vibrams, particularly when it's raining outside. Splashing through puddles in Vibram Fivefingers really does make you feel like a little kid.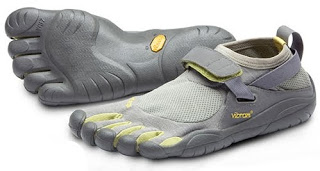 Vibram Fivefingers KSO's in Grey/Palm – These are the VFF's that I Own
4. The new VFF Bikila is set to be released around the time of the Boston Marathon (mid-late April). This is the first runner-specific model, and I'm really excited to give it a try. Keep an eye on this blog, and if I'm lucky I might have a review in the not too distant future.
5. If you are in any way considering buying a pair of Vibrams, do it! As I said above, they're a blast to run in, and on many days the thought of being able to do a VFF run is all I need to get me out the door. You may get funny looks, but to be honest, that's part of the fun of the Vibram running experience!
6. Another final that cannot go overstated is that you must be careful and ease into Vibram running. If you do too much, too fast, you are at risk of injuring yourself. To hear my somewhat exhaustive thoughts on this point, check out my podcast on the subject.
Well, that's all for now. I'll ad to this post if anything else pops into mind. In the meantime, enjoy your running!